Dean Williamson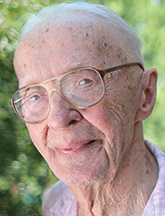 Dean Williamson, 93, of Warrensburg, Mo., died Sunday, May 18, at the Missouri Veterans Home in Warrensburg.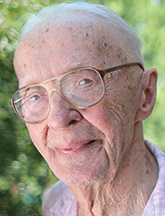 Funeral services will be held at 3 p.m. Saturday, May 24, at Sweeney-Phillips and Holdren Funeral Home in Warrensburg with the Rev. Louie Lowe officiating.
Interment will follow at Warrensburg Memorial Gardens Cemetery with full military honors provided by Warrensburg American Legion Post 131 and VFW Post 2513.
The family will receive friends from 2 p.m. until service time Saturday at the funeral home.
He was born Aug. 12, 1920, in Waverly, Kansas, the son of Alfred John and Alice (Harrison) Williamson.
He was united in marriage to Noreen Bamford on May 22, 1947, in Perth Western, Australia.
Dean's early years were spent in Little River, Kansas, with childhood friends and helping his father in the furniture business. After the bombing of Pearl Harbor in 1941, Dean enlisted in the Navy and was shipped out from California heading to the Admiralty Islands. Dean served as a medic for two years until Malaria sent him to a hospital in Sydney, Australia. Once he recovered, he returned to the island where he received new orders to be transferred to Perth, Western Australia. During his service time in Perth, he met Noreen who, after the end of WWII, married and returned to Kansas to build a new life together.
Now familiar with the furniture business, Dean forged a working relationship with his father while he and Noreen raised four children. In 1964, Dean moved his family to Warrensburg to purchase an existing furniture company that was renamed Dean Williamson Furniture. The company still exists today under the ownership of his son, Dennis.
Dean loved spending time with his family as well as being a part of the American Legion, VFW, Rotary and meeting his friends at the Rusty Zipper Coffee Club that still carries on the tradition today. After his retirement in 1993, Dean and Noreen traveled the country as well as abroad, playing many rounds of cards with friends and watching the Missouri sunsets.
Dean is survived by his wife, Noreen; his four children, Dennis Williamson and wife, Naomi, of Warrensburg; Marsha Williamson of Rock Hill, South Carolina; Clark Williamson of Abilene, Kansas; and Rosalind Prizler and husband, John, of Santa Barbara, California; one twin sister, Wilma Jean Blaser of Marysville, Kansas; five grandchildren, Devon Williamson and wife, Barbara, of Raymore, Mo.; Dene' Williamson of Tampa, Florida; Brian Jenkins and wife, Susan, of Charlotte, North Carolina; Michelle Mosko and husband, Stephen, of Fort Mill, South Carolina; and Brandon Roots of Brooklyn, New York; and four great-grandchildren, Alexander and Nicholas Williamson, Dylan Jenkins and Anna Grace Mosko.
He was preceded in death by his parents and two sisters, Marguerite Alber and Dolores Wandell.
Memorial contributions are suggested to the Missouri State Veterans Home in Warrensburg or First United Methodist Church and both can be left in care of the funeral home.