Calvin Eugene Southard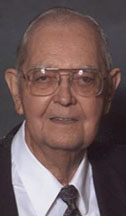 Calvin Eugene Southard, 89, of Warrensburg, died Sunday, May 4, at the Missouri Veterans Home in Warrensburg.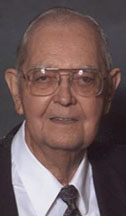 Funeral Services will be held at 10 a.m. Wednesday May 7, at the Sweeney-Phillips and Holdren Funeral Home in Warrensburg with Pastor Randy Crawshaw officiating.  Interment will follow at Sunset Hill Cemetery. Pallbearers will be James Reynolds, Jason Reynolds, Charlie Taylor, TR Hoefle, Adam Moss, Evan Rist and Christopher Southard.  Honorary Pallbearers will be Osborne McMillan, Marion Cox, Don Kendrick, Lloyd and Ella Mae Matthews, Hal Sappington and Forrest Rabel.
He was born March 15, 1925, in Wheatland, Mo., the son of William Ross and Elsie Maude (Chancellor) Southard.
He and May Ellen King were married on March 5, 1949, in Humansville, Mo. She preceded him in death on Sept. 12, 2012.
Mr. Southard was a graduate of the Cherry Hill High School in Mena, Ark., in 1943.  From 1943 to 1945, Calvin served in the U.S. Army Air Corps. He worked in General Douglas MacArthur's headquarters in Manila during World War II. After his service, he worked for Unitog Industrial Uniforms for 38 years as a mechanic and engineer retiring in 1988. Calvin was a member of the Pleasant Grove Cumberland Presbyterian Church in Knob Noster. He and May were baptized at the Flemington Baptist Church in November 1949, the baptism was by immersion and the creek was frozen so they had to break the ice to perform the ceremony.
He is survived by two daughters, Donna Reynolds and husband, Jim, of Raymore; and Lola Rist and husband, Jim, of Macon, Mo.; one son, Roger Southard, and wife, Debbie, of Bonneville; seven grandchildren, James Reynolds and wife, Tamara, of Claycomo, Mo.; Jason Reynolds and wife, Lynn, of Wichita, Kan.; Erin Hoefle and husband, TR, of Grandview, Mo.; Emily Taylor and husband, Charlie, of Lee's Summit, Mo.; Megan Moss and husband, Adam, of Brentwood, Mo.; Evan Rist of Macon; and Christopher Southard of Independence, Mo.; five great-grandchildren, Ian, Ireland, Carson, Anna and Tobin, and number six is on the way. In addition to his wife, he was preceded in death by his parents and one brother, Alec Murray Southard.
Memorial contributions are suggested to the Pleasant Grove Cumberland Presbyterian Church or the Warrensburg Cumberland Presbyterian Church in honor of May and Calvin and may be left in care of the funeral home.