John Peter Simon, 61, of Warrensburg, died suddenly at his home on Thursday, Nov. 7.
The family is planning a private ceremony.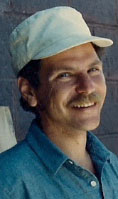 John was born in Fort Dodge, Iowa, to the late John Joseph and Anne Catherine (Dieser) Simon. After graduating from high school in Rochester, Minn., John traveled across the country by hitchhiking and riding the rails. He returned to Winona, Minn., to work on the river barges and later served for a time in the U.S. Air Force. His time in the service brought him to Warrensburg in the early 1970s, where he settled.
For many years, John had his own house painting business in the Warrensburg area. He later worked as a painter at Whiteman Air Force Base and then at the University of Central Missouri, where he worked for 12 years up until the time of his death. John prided himself on being an accomplished, self-taught carpenter, painter and plumber. John was happy to pitch in to help with any side project, often volunteering or trading his time. There are many a friend, family member or neighbor who benefited from his help on projects, such as building and remodeling houses or repairing roofs and fences.
John was a quiet and intensely private man, but he was well liked by all who met him. He was easy-going and always quick with a smile. He loved spending time outdoors, whether working in his gardens, splitting wood or grilling up something delicious. John had always loved to cook, and in his younger days, he was known for his home-baked breads. John was a man who enjoyed the simple pleasures in life; some blues on the radio, the warmth of a woodburning stove, a good sausage on the grill, the company of a loyal dog and the beautiful view over the rolling hills from his beloved old farmhouse.
John is survived by his children, Naowna Simon of Brooklyn, N.Y., and Cole Simon of Warrensburg; his sisters, Barbara Simon of Jordan, Minn., and Mary Simon of Evanston, Ill.; his brother, Patrick Simon of Columbia; and his two grandsons. He also leaves behind his seven nieces, of whom he was very proud, as well as four great-nieces and three great-nephews.
In lieu of flowers, cards may be sent to the family care of: Cole Simon, 115 Vamo Road, Apt L, Warrensburg, Mo., 64093.
Story continues below advertisement