Joyce E. Ralston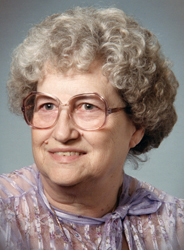 Joyce E. Ralston, 87, of Independence, Mo., formerly of Warrensburg, Mo., died Monday, Nov. 4, at her daughter's home.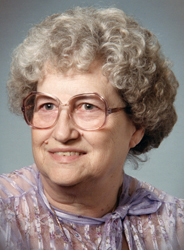 Funeral services will be held at 11 a.m. Saturday, Nov. 9, at St. Marks United Methodist Church, 603 N. Jennings Road, Independence, Mo., with the Rev. Paula Smith officiating.  Pallbearers will be Steve Holem, Randy Stout, Lee Flanagan, Joseph Streetman, Greg Moore, Matt Bevan, Michael Longworth, Glen Longworth and Kenneth Swope.  Honorary pallbearers will be Arthur Ralston, James Ralston, Justin Swope, Charlie Johnson, Donald Hill and Darrell Richey.
Interment will follow at Oak Hill Cemetery in Butler, Mo.
The family will receive friends from 10 a.m. until service time Saturday at the church.
She was born Sept. 12, 1926, in Kansas City, Mo., the daughter of John and Emma C. (Korneman) Ivan.
On May 27, 1945, she married Kenneth B. Ralston in Independence.  He preceded her in death on Nov. 6, 1986.
Joyce was a graduate of Appleton City High School in Appleton City, Mo., class of 1944.  She worked as the residence hall director at Central Missouri State University for more than 30 years until her retirement.  She was a member of the Eastern Star in Warrensburg, a member of the White Shrine, a member of the B.P.W., a member of the First United Methodist Church in Warrensburg and attended St. Mark's United Methodist Church in Independence.
Joyce is survived by one son, Arthur K. Ralston of Paris, Mo.; four daughters, Joyce Hammond of Branson, Mo.; Dr. Linda S. Ralston of Salt Lake City, Utah; Denise Stout and husband, Randy, of Independence; and Dianna Streetman and husband, Joseph, of Fort Worth, Texas; one sister, Naomi Bevan of Reston, Va.; 15 grandchildren, Joyce Richey, Emma Holem, Betsy Johnson, Kenna Hammond, John and Larry Davis, Linda Winchester, Sharadawn Flanagan, Serend Hill, Bobbi Stout, Tristan Streetman, Mikayla Streetman, James Ralston, Julie Nelson and Jeanette Kennedy; and 26 great-grandchildren, Anthony, Larry, Cody, Ivan Davis, Aaron, Darrel and Robert Richey, Junior and Artie Johnson, Kenna and Angel Hammond, Michael and Mary Jo Dunlap, Kenneth and Justin Swope, Alice Holem, Alexis, Blaine, and Roscoe Flanagan, Donavan Hill, Liam Strong, Katelyn Winchester, Jacqueline, Linda, and Nathan Kennedy, Britney Longson, and Timothy Ralston.
She was preceded in death by her parents, two daughters, Cozette Davis and Kathy Ralston; two brothers, Wayne and James Moore; and one sister, Juanita Longworth-Buhr.
Memorial contributions are suggested to American Cancer Society or Operation Smiles and both can be left in care of Sweeney-Phillips & Holdren Funeral Home in Warrensburg, Mo.