Melvin L. Sims
Melvin L. "Mel" Sims, age 91, of Warrensburg, Mo., died Oct. 19, at the Western Missouri Medical Center.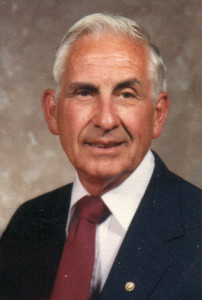 Funeral services will be held at 2 p.m. Tuesday, Oct. 22, at Sweeney-Phillips & Holdren Funeral Home in Warrensburg with Reverend Randy Crawshaw officiating.  Pallbearers will be Bob Ahring, Rick Ahring, Don Moore, Tom Craig, Steve Ditty, and Greg Gladfelter.  Honorary pallbearers will be Jim Kimbley, Bill Ketcherside, Don Parsons, Gene Larson, and Bud Williams.
Interment will follow at Sunset Hill Cemetery.
The family will receive friends from 1 p.m. until service time Tuesday at the funeral home.
Memorial contributions are suggested to the Shriners Children's Network or Cumberland Presbyterian Church and both can be left in care of the funeral home.
He was born September 25, 1922, in Warrensburg, Mo., the son of William Grover and Eunice  Myrtle (Hayes) Sims.
On November 17, 1946, he was united in marriage to E. Frances Violett in Kansas City, Kan.
Melvin worked as a Quality Assurance Engineer for Martin Marietta Corporation for several years until his retirement.  He was also active in local and state organizations including B.P.O.E. for 40 years, Masonic Lodge for almost 60 years, Kiwanis Club and Shriners.
Melvin is survived by his ever-loving wife of almost 67 years, Erma Frances (Violett) Sims and their number one doxie, Kaely; one brother, Grover W. Sims and wife Gloria of Tallahassee, Fla.; three brothers-in-law, Bill Rinne, Vernon Violett and wife Barbara, and Virgil Violett and wife Patty, and many nieces and nephews.
He was preceded in death by his parents.