Dustin Reed Frisbee
Dustin Reed Frisbee, 34, of Knob Noster, died Tuesday, Oct. 15, as a result of a motor vehicle accident.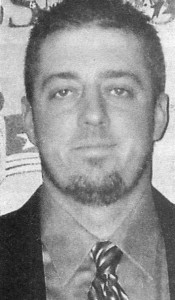 Funeral services will be held at 10 a.m. Saturday, Oct. 19, at Sacred Heart Catholic Church in Warrensburg with Father Joseph Miller officiating.  Pallbearers will be Timothy Scarbrough, Christopher Dannenfelser, Trae Frisbee, Nicholas Munsterman, Peter Raptakis, Scott Henderson, Ronnie Callaway and Joshua Jolly.
Interment will follow at Knob Noster Cemetery.
The family will receive friends from 6-8 p.m. Friday, Oct. 19, at Sweeney-Phillips & Holdren Funeral Home in Warrensburg.
Memorial contributions are suggested to the Dustin R. Frisbee Children's Education Fund with checks made payable to Laura Frisbee and can be left in care of the funeral home.
He was born July 20, 1979, in Warrensburg, the son of Randy and Marlene (Burns) Frisbee.
On Sept. 21, 2002, he married Laura Munsterman in Sedalia, Mo.
Dustin was a graduate of Knob Noster High school class of 1997.  He worked as a union laborer for a commercial construction company.  Dustin attended Sacred Heart Catholic Church in Warrensburg.  He was a member of the local union No. 264 and was the youth softball coach for the Knob Noster Bombers.  Dustin enjoyed hunting, fishing and being outdoors.  He loved his children and family and spending quality time with them.
Dustin is survived by his wife, Laura; his children, Olivia Jean, Emma Kay Frisbee and Austin Reed Frisbee, all of Knob Noster; one brother, Trae Frisbee, of Knob Noster; his father, Randy Frisbee, of Linn, Mo.; his father- and mother-in-law, Ted and Diana Munsterman, of California, Mo.;  two  sisters-in-law, Jennifer Raptakis and husband Peter, of St. Peter's, Mo., and Alisha Henderson and husband, Scott, of Jefferson City, Mo.; his brother-in-law Nicholas Munsterman and wife, Laura, of Jefferson City, Mo.; four nieces, Sarah and Rachel Raptakis and Jenna and Gwendelyn Henderson; and nephew and godfather Gavin Munsterman.
He was preceded in death by his mother Marlene Frisbee; his paternal grandparents Glenn and Beryle Frisbee, and his maternal grandparents George and Eleanore Burns.