Clark E. Tyler
Clark E. Tyler, 70, of Linn, Mo., formerly of Leeton, Mo., died Monday, Aug. 19 at St. Mary's Hospital in Jefferson City, Mo.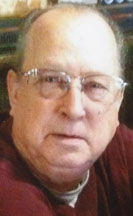 Funeral services will be held 2 p.m. Saturday, Aug. 24 at Sweeney-Phillips & Holdren Funeral Home in Warrensburg with the Rev. David Krueger officiating. Pallbearers will be David Cox, David McCannon Jr., Will Clark, Curtis Bright, Kenny Scrivener and Mark Luetkenhoelter.
Interment will follow at Warrensburg Memorial Gardens.
The family will receive friends from 12:30 p.m. until service time Saturday at the funeral home.
He was born June 5, 1943, in Redding, Calif., the son of Marion Albert and Monnie Marie (Curtis) Tyler.
He was united in marriage to Sue Cecil on July 23, 1966, in Leeton.
Clark graduated high school in California and then served in the U.S. Army and later served in the National Guard for more than 20 years. Clark then moved his family to Leeton and worked at the post office in Warrensburg. In 1987, Clark was named postmaster in Leeton where he worked until his retirement in 1999. He was a former mayor of Leeton, and was a member of the Lions Club and the Masonic Lodge. Clark was a member of the First Baptist Church in Linn. He was a loving husband, father, grandfather, and his interests included antique cars, rock 'n' roll music from the 1960s and 1970s, and crappie fishing.
Clark is survived by his wife, Sue; two daughters: Monnie Mealy and husband, Marc, of Linn; and Tami Clark and husband, Rob, of Fulton, Mo.; one sister, Julia Broughton and husband, Gary, of Red Bluff, Calif.; nine grandchildren: David, Haylee McCannon, Miranda Vanzant, Tyler Wolken-Mealy, Samantha, Gabrielle Vanzant, Tyler Saltzman, Will and James Tyler Clark.
He was preceded in death by his parents and three brothers, Al, Donnie and Gary Tyler.
Memorial contributions are suggested to the American Heart Association and can be left in care of the funeral home.