Golda Lavera Gauchat, 84, of Warrensburg, died Monday, Aug. 5 at the Golden Living Center in Odessa, Mo.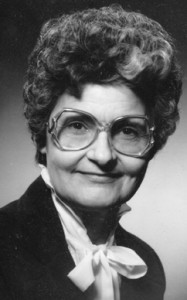 A funeral will be held at 10 a.m. Friday, Aug. 9 at Sweeney-Phillips & Holdren Funeral Home in Warrensburg with Elder David Watson officiating. Pallbearers will be Gary Marr, Albert Colster, John Marr, Jerry Marr, Bruce Marr and Randy Jones.
Interment will follow at Greer Cemetery near Leeton.
The family will receive friends from 6-8 p.m. Thursday, Aug. 8 at the funeral home.
She was born April 25, 1929, in rural Johnson County, Mo., the daughter of John K. and Golda (Perry) Marr.
She was united in marriage to Emile "Junior" Gauchat Jr. on May 2, 1948, at the Marr family home in rural Johnson County.  He preceded her in death on Dec. 29, 2011.
Golda graduated from Hickory Grove Country School and then attended and graduated from College High School.  She then received her teaching certificate from Central Missouri State Teachers College.
Golda worked a variety of jobs including being a teacher at a country school; a bookkeeper at Peoples National Bank, and was secretary for her husband's construction business for many years.  Golda was the former Johnson County recorder of deeds for 11 years and was appointed by the Missouri secretary of state to the State Records Board.  She also served as a teacher's aide in the elementary schools where she enjoyed working with all the students.
She was a member of the Community of Christ Church, where she had served as congregational women's leader, Sunday school teacher, and assistant director to children's choir.  Golda was past co-chairman of the Women's Ministry Commission and was past secretary-treasurer of the Warrensburg Church Women United.  She was a past president, secretary, and life member of the Johnson County Historical Society.  Golda was a past member of the West Central Missouri Genealogy Society, a member of the Eastern Star, American Legion Women's Auxiliary, Warrensburg Park Board, Hospice Board, Republican Party, Johnson County Republican Committee and a member of the National Association and Missouri Association of Legal Secretaries.
She was a former arts and crafts instructor for the Warrensburg Recreation Department, was named Missouri Merit Mother of the Year in 1985, and was an avid worker for the cancer, heart, and American Red Cross fund drives.  Golda was an exceptional seamstress and artist.  She enjoyed decorating cakes, gardening, and embroidery.  She was a devoted wife and mother who took great pride in creating a nurturing home environment, where everyone's accomplishments were celebrated and everyone was appreciated.  Golda loved her family, her children, grandchildren, great-grandchildren and they loved her.  She blessed her family with many wonderful memories.
Golda is survived by her children, Carol Williams and husband, Robert of Odessa; Nancy Hoffman and husband, David, of Minnetonka, Minn.; and Edwin Gauchat and wife, Paula, of Warrensburg; one sister, Shirley Jones and husband, Kenneth, of Warrensburg; one brother, John "Jack" Marr and wife, Willa, of Mill Creek, Wash.; five grandchildren and four great-grandchildren.
She was also preceded in death by her parents and six brothers, Galen Marr, Rolla Marr, Frank Marr, Allen Marr, Luther Marr and Arthur Marr, all of Warrensburg.
Memorial contributions are suggested to the "Make a Wish Fouundation" or Greer Cemetery and can be left in care of the funeral home.
Story continues below advertisement