WBC awards scholarships to Larsen, Thurston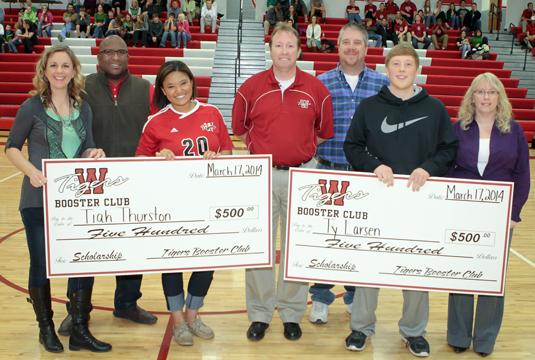 (WARRENSBURG, Mo.) – The Warrensburg Booster Club awarded a $500 scholarship to WarrensburgHigh School seniors Ty Larsen and Tiah Thurston Monday night during the Meet the Tigers program.
Ty, the son of Eric and Heidi Larsen, plans to play football at AvilaUniversity. Tiah, daughter of JT and Susan Thurston, plans to play volleyball at MissouriValley. Both will be able to use the scholarship towards school-related expenses.
"Congratulations to Ty and Tiah on being awarded these scholarships," said WBC president Adam Horn. "Ty and Tiah have worked very hard on and off the field throughout their high school careers and it was my honor to recognize them for their outstanding efforts with these scholarships. On behalf of the WBC board, we wish them all the best and much success at the next level."
Larsen and Thurston were selected from a competitive application process. Each applicant was required to submit an application that detailed where and what sport they planned to play at the college or university level next year, have a 3.0 GPA, demonstrate good citizenship/community service, submit a recommendation letter from a coach or teacher, and submit a one-page essay.
The WBC will offer two more $500 scholarships to one graduating male and one female WHS student athlete in May at the WHS awards banquet. Scholarship applications are available in the WHS counselors' office and at Pack N Mail at 540 E. Young St. The application deadline is 3 p.m. Friday, May 2.