New restaurant joins Pine Street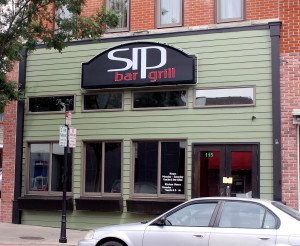 By NICOLE COOKE
(WARRENSBURG, Mo., digitalBURG) – There's a new addition to the Pine Street bar scene and it opened this past weekend.
Sip Bar and Grill, located at 115 N. Holden St., opened up its patio Friday as the owner and managers put the finishing touches on the new place.
The new restaurant, housed in the former Molly's location, will have its grand opening Aug. 22-24, the first weekend of classes. The specifics aren't finalized yet, but at least one band will play during the opening weekend, said managers and brothers Zack and Logan Lenz.
"We're excited about the live music," Logan said. "It's something we're going to try to do often, and we hope we will become known for having live music."
Sip has been getting a facelift for more than a month. Logan, Zack and owner Matt Boehmer have renovated the patio, including new bar tops, stained fencing and a revamped outdoor bar.
"We've overhauled it décor-wise," Zack said. "We're trying to create a classy atmosphere. We want to keep the rowdiness to a minimum. Inside anyway."
The appearance isn't the only aspect of Sip that will be new to Pine Street. The menu will also be distinct to Sip. The final menu isn't set, but it will include appetizers such as lobster corndogs, truffle tater tots and Irish nachos. The Lenz brothers call it "upscale bar food."
The restaurant will be available for community and campus organizations to rent out, either inside or a section of the patio with a private bar. Rentals can include catering if desired.
Employees have already been hired. Zack said they want to keep their team small to create close relationships within the Sip "family." However, depending on the public response to the new business, more employees may be hired down the road.
Logan and Zak have spent plenty of time as bartenders on Pine Street and at the Lake of the Ozarks over the past few years. So, once Boehmer asked them to join the team, they were up for the challenge. And full of ideas.
"This is something we've wanted to do," Zack said. "After a few years of bartending, we've seen what works and what doesn't. We took some ideas from the lake and implemented them here."
The pair said that so far the public reaction has been positive, especially to the idea of another downtown patio opening up before summer ends. Zack said there has been quite a bit of "hype" surrounding the bar lately. When the brothers were at another Pine Street bar last week, he said they spent most of the evening fielding questions.
"It's been stressful," Logan said. "It's the first time we're in charge so we're stressed, but it's exciting and we're pumped for it to open."
For more information, visit the restaurant's Facebook page, Facebook.com/SIPBarGrill.