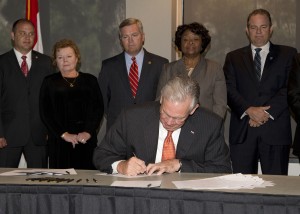 By NICOLE COOKE
(WARRENSBURG, Mo., digitalBURG) – Gov. Jay Nixon signed Senate Bill 381 into law Thursday morning during a press conference at the University of Central Missouri, which formalizes the Missouri Innovation Campus initiative.
The MIC initiative is a way to reduce student debt and the time it takes to earn a college degree by allowing students to begin before they even graduate high school. The initiative combines business partners, local school districts and college sponsors to create opportunities for students they might not have otherwise.
While the MIC initiative can be put into use anywhere in the state, the UCM Innovation Campus is the only one of its kind in Missouri, and it is Nixon's goal to continue the initiative throughout the state, as well as the U.S.
"It's a simple and powerful idea," Nixon said during the press conference. "Giving students more powerful skills and greater opportunities in less time and at less cost. We started it here at UCM and I think it will become a model for our nation."
The bill creates an Innovation Education Campus Fund. The state can appropriate money from the fund "to fund the program of instruction at any innovation education campus," according to the bill.
An innovation education campus can receive the funds if the school helps to lower the cost for students to complete their college degrees, helps a student finish college sooner, provides "project-based learning experiences" in partnership with Missouri businesses, and provides graduates with access to careers at Missouri-based businesses, according to the bill.
The UCM Innovation Campus, which started in August 2012, is a collaborative effort of business partners, including the Lee's Summit R-7 School District, the University of Central Missouri and Metropolitan Community College.
According to the UCM website, students begin the program during their junior year of high school, taking required courses for graduation, as well as college credit courses that will allow them to graduate high school with an associate's degree. The final two years focus on completing a bachelor's degree at UCM.
"The goal of the MIC is to connect businesses with a highly trained workforce," the UCM website states. "The Missouri Innovation Campus also uses an accelerated model designed to reduce student debt and increase degree completion."
Several Missouri legislators were on hand during the press conference, including UCM alumnus Sen. Will Kraus, who sponsored the bill. Also in attendance was Sen. David Pearce, who assisted with the bill, and stressed the importance of not only the bill, but also Nixon's appearance at UCM.
"It's huge. This is a whole new concept, whole new idea for the legislature," Pearce said. "Very seldom do new ideas get passed the first year. So to pass the legislature and then to have the governor actually physically come here is just a huge boost."
Legislators weren't the only ones in attendance. There were also eight MIC students at the press conference to see Nixon sign SB 381. Several of them recently graduated high school, and all of them have paid summer internships with companies like Cerner, St. Luke's Hospital and DST Systems.
Pearce had the chance to talk with those students about their experience so far.
"They're all doing internships, they're all getting paid this summer. They're in the real world, being paid. They're going to school, they're getting work experience," he said. "And if they do a good job, they've got a job when they graduate, and theoretically, no student debt. And even better, the businesses, they know they've got good employees. They don't have to recruit."
According to a news release from the governor's office, SB 381 "officially defines in state statute an Innovation Campus as an educational partnership comprised of one or more Missouri public community colleges or Linn State Technical College; one or more Missouri public or private four-year institutions of higher education; one or more Missouri high schools or K-12 education districts; and at least one Missouri-based business."
"This legislation formalizes the Innovative Campus model, ensuring the progress and momentum of this important initiative will continue," Nixon said.
"Together we will prepare students for the businesses of tomorrow, cut the time it takes to earn a degree, and ease the burden of student debt. That's a win for Missouri universities, a win for Missouri businesses, and, most importantly, a win for Missouri students."
For more information about MIC, visit ucmo.edu/about/mic.
Story continues below advertisement