New editor named at digitalBURG.com
By JEFFREY CONTAC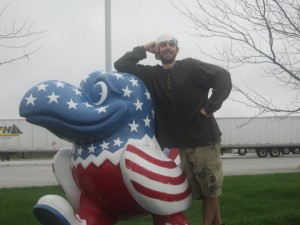 (WARRENSBURG, Mo., digitalBURG) – Warrensburg's online community news site, digitalBURG.com, has a new editor.
Lester Adams, 31, of Windsor, was recently named to the website's top job. The site is the Warrensburg community news service of the Muleskinner, the student newspaper at the University of Central Missouri.
Adams is majoring in Biology and Digital Media Production (DMP) at UCM, but the newspaper business runs in his family. His father purchased a local newspaper when Adams was 14.
Adams said he enjoyed watching the printing press churn out thousands of papers an hour. He said his interest for speaking and writing developed during his high school freshman debate class in Wellsville, Kan.
"I liked the public speaking aspect, but all the research and math made it more well-rounded and enjoyable," Adams said.
Matt Bird-Meyer, Muleskinner adviser, taught Adams in a public speaking class and was impressed with Adams' work.
"I was immediately impressed by his character, his organizational skills, and his intellect," Bird-Meyer said. "He shined right from the beginning."
Adams was hired as circulation manager and Bird-Meyer later appointed him to the UCM Student Publications Board before he was named digitalBURG editor.
Adams stays busy juggling biology, DMP and now his online reporting and editing duties.
He is an avid snake and frog collector. Adams has a 5-foot-long red-tailed boa constrictor, Saint, named for his cross-shaped marking on his forehead. He also has two dogs, Thor and Shylah.
At digitalBURG, Adams assigns and edits stories, selects wire copy to post online and does some reporting.
Adams said it is important for editors and reporters to pay attention to detail.
"You can sit in class all semester and retain what you're told, but remembering the critical details really makes a story glisten," he said. "Next is motivation, then it's all practice and repetition."
Adams said he hopes to find a job after graduating that incorporates his love for nature and journalism, such as wildlife reporting.