Knob Noster man charged in wife's homicide
By CLIFF ADAMS
(KNOB NOSTER, Mo., digitalBURG) – A Knob Noster man was charged Saturday in the homicide of his wife.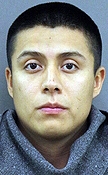 Anthony Garcia, 23, was charged with second-degree murder and armed criminal action in the shooting death of Danielle Garcia, 24, according to a probable cause statement issued by the Johnson County Sheriff's Department.
Sheriff's deputies responded to a reported suicide at approximately 1 a.m. Saturday at 17 SE 971 Road in Knob Noster. Deputies arrived to find Danielle Garcia dead in the kitchen. Police think her death was the result of a single gunshot wound to the head, according to court records.
After further investigation, Anthony Garcia admitted to law enforcement that he shot his wife, according to court records. A Taurus .38 caliber handgun was located at the scene.
Garcia is being held in the Johnson County Jail in lieu of a $250,000 bond. Garcia has a hearing scheduled for 1:30 p.m. Wednesday, Feb. 20 at the Johnson County Justice Center.