Rap, Roommates and a Future in Music
More stories from Dillon Seckington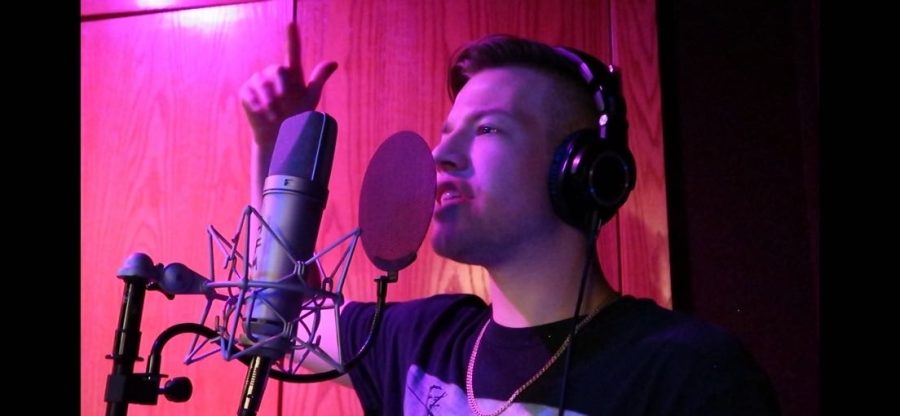 While the majority of students at UCM would consider themselves up-to-date on the current trends of music, only a fraction of them create tracks of their own. From a young age growing up in Spring Hill, Kansas, freshman music technology major Jace Widman was inspired by the popular rappers of the 2000s and 2010s.
  "Originally [I was inspired by] Eminem for sure," Widman said. "I feel like a lot of people can hear that in my music. I grew up on him mainly, from when I was, like, 10."
  Widman is now using this inspiration, which he has carried with him for several years, to bring his own visions and ideas to fruition.
  Releasing music under the moniker "Jache," Widman has racked up thousands of streams on his most popular songs, such as, "Fever Dreams," "Effect," "Live to Die" and most recently, "This Is He." Featuring a wide variety of sounds and styles, Widman releases new music frequently. 
  "My style shifts from aggressive-type rap to singing melodic-type stuff," Widman said. "It's kind of all over the place, but there's a vibe to it at the same time."
  Aside from taking the time to actually write his songs, Widman has also taken the initiative to set up a makeshift studio, equipped with the essential tools for recording, in his Ellis dorm room. This has allowed Widman to work on his craft nearly any time he gets the chance. 
  "My creative process is different every time." Widman said. "Sometimes I'll just come up with a melody in my head. Sometimes I'll be working with other people and I'll hear a beat, and I'll start humming along to that. Then I'll add words to that and freestyle some flows."
  While the dormitory studio allows Widman to work more conveniently, he also has access to higher-grade equipment at GFM Recording Studios in Blue Springs, Kansas. 
  "We do basically all things music," Nic Aguero, from GFM, said. " We wanted to start a place that was not only something that we loved doing, but we wanted to get everyone the best that they could get, and get everyone a unique sound to their own."
  While Widman has already racked up a few thousand streams on his most popular songs on Spotify, he still has expanding aspirations.
  "Mainly what I've been trying to focus on is just getting my music out there, doing things like this, trying to just bring more attention to it," Widman said.
  These aspirations are confirmed through a strong supporting cast filled with people who support him and his dreams of turning music into a long-term career. Widman's roommate and fellow music technology freshman, Dylan Patterson is part of that support system. 
  "I would love to hear him perform live," Patterson said. "I've heard some of his unreleased stuff and I can't wait to hear it released." 
  While Widman continues to work on his degree at UCM, he also continues to perfect his passion. With a good work ethic and the right timing, it's possible that this could land him a career in the music industry someday.  
   "We want to see Jace go all the way," Aguero said. "We want to see Jace take his music and get it out to the masses. He's going to get better and better at mixing and mastering, he's going to get better and better at throwing it down. So we're looking forward to the future."
Leave a Comment
About the Writer
Dillon Seckington, Opinions Editor
Dillon Seckington is a senior at the University of Central Missouri pursuing degrees in digital media production with an emphasis in digital journalism...