Kansas City Celebrates 2023 Super Bowl Win
The Chiefs 2023 Super Bowl victory came with yet a massive celebration in downtown Kansas
City. Held on Feb. 15, the Super Bowl 2023 victory parade saw hundreds of thousands of Chiefs
fans along Grand Boulevard and gathered at Union Station according to KCUR News. Many fans
showed up in the early hours of the morning and some even camped out overnight to ensure that they
got spots to see their favorite Chiefs stars.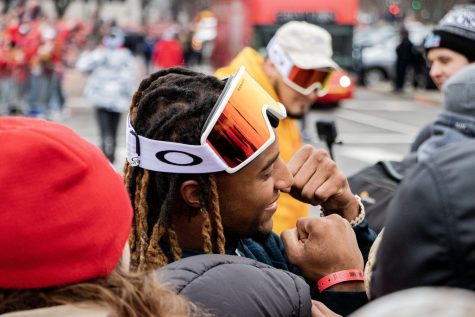 "That's the biggest thing I've ever been to, that was the most people I have ever seen," said University of Central Missouri junior Allison Bright. "It was definitely a wow moment."
The parade began at the intersection of Grand Boulevard and 6th Street, and ended when the players got off their buses at Union Station. Aside from the parade and the Champions Rally, the event also hosted a variety of food trucks and merchandise vendors for attendees to have an enjoyable and interactive experience. A number of these attendees were also UCM students.
"I've been to plenty of parades, but this was different," said Bright. "It's not just a parade, it was an
experience."
Due to the fact that the celebration was held in the middle of the week, many students had to make the
decision between attending class and supporting their team at a historic event. This caused a number of classes to be canceled.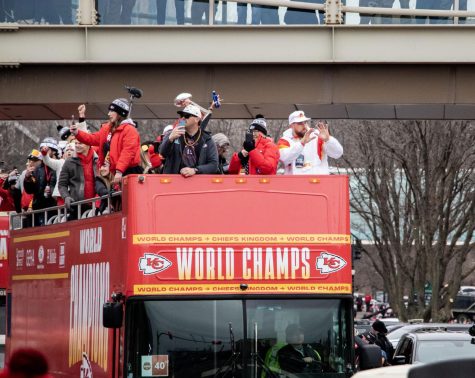 "Personally, I'm a big Chiefs fan," said Katelyn Modlin, UCM graduate student and public speaking teacher.
"So I can understand the pull for students to want to go to the parade. I can also understand the professor's
side of we still need to learn, we still need to push forward."
While some students and professors felt that skipping out on class for such an event is, in some cases, justified, others feel that students need to focus on their education first.
"I think it's complicated," said Josh Olson, UCM public speaking teacher. "I think this is college, I think
the students have an obligation to maintain their responsibilities. The way I would phrase it is, if you want
to skip class to go to the parade, that's your choice. I would encourage them
not to do that."
Leave a Comment
About the Contributors
Ellie Whitesell, Multimedia Manager
Ellie Whitesell is a junior in Digital Media with an emphasis on photography. Ellie is the photo manager and editor for the Muleskinner. She is a photography...