Track Star Ron Tabb Reminisces CMSU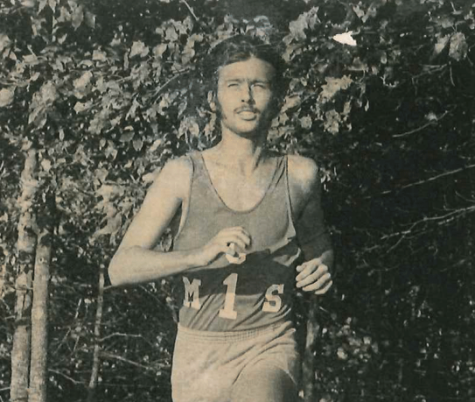 Former Central Missouri State University runner Ron Tabb might not run anymore, but he has left a lasting impact on University of Central Missouri athletics and the running world. 
  One of his most memorable races is the 1981 Paris Marathon, where he and English runner Dave Cannon purposefully ran through the line together after a hard-fought 26.2 mile duel. Although not a well known race, it has epitomized the heart of sport to this day. 
  A better known race is that of the legendary Boston Marathon, where Ron Tabb placed second and ran fast enough to qualify for the inaugural Track and Field World Championships in 1983.
  Ron Tabb was a CMSU standout who came from Lexington, Missouri. His resume in high school was not amazing, but Tabb was offered a spot by then-head coach of the Mules cross country team, Jim Pilkington. 
  "[Coach Pilkington] came to Lexington to recruit this sprinter, and I was more or less an afterthought," Tabb said.
  Tabb accepted the offer from Pilkington and went to CMSU, only a short drive from his hometown. Tabb's first year of college was plagued by sidelining shin pain that held him from competition, but once he got to his sophomore year, he was ready to race. Coach Pilkington had many gifted athletes while coaching, but Tabb was one with immense strength, as if made for the marathon. 
  "Coach Pilkington really ran these guys … and I think that's part of the toughness that Ron used later on after college to push himself," Bruce Uhler, one of Tabb's old time friends, said. It wasn't just the training that coach Pilkington gave, but the mentality and desire to compete that Tabb had as well. 
  While at CMSU, Tabb was a four-time All American and was the first CMSU athlete to qualify for the Division I National Cross Country Championship. Division II athletes used to be able to qualify for the meet if they were top 10 at their national meet. For a time, Tabb also held every record from the full mile to the 10,000 meter run.
  After college in the late 70s, Tabb asked his friend Charlie Gray to move to Houston, Texas with him to train for the U.S. Olympic marathon trials. At his peak training, Tabb ran 580 miles during the month of June in the summer of 1979 – that amounts to roughly 140 miles a week or 20 miles a day. Hearing those numbers, most would have called Tabb mad.
  In explaining how many people used to view this kind of training, current UCM head cross country coach, Kirk Pedersen said, "That was the terminology is, 'that's not very smart, you're going to hurt yourself. You shouldn't run more than 80 miles like that ever.'" 
  However, it worked for Tabb, and he qualified for the Olympics. Sadly, he was unable to compete because of the United States' boycott of the 1980 Moscow Summer Olympics.
  Tabb went on to run one of the top five all-time American marathon times and a top 15 time in the world. His time was 2:09.31, which is an average of 4:56 per mile for 26.2 miles.
  After retiring from running in 1992, Tabb had finished a prestigious running career where he had raced with, trained with and helped train the best. Of those he trained with, 80s marathon world record holder Alberto Salazar and American five thousand meter run record holders (at different times), Rudy Chapa and Matthew Centrowitz Sr., were a part. The group was trained by Bill Dellinger. Dellinger was not only a three-time Olympian but was also mentored by legendary coach and Co-founder of Nike, Bill Bowerman. 
  Of those he trained and influenced in their careers was his wife of three years and middle distance star, Mary Decker, and the Eritrean-American marathoner, Mebrahtom Keflezighi, who became one of the best American marathoners of all time, winning a silver medal in the 2004 Athens Summer Olympics.
  Tabb now resides in Fort Myers, Florida, where he coaches athletes around the country through an online platform. 
  Tabb never thought he would run professionally, but it was all decided with one realization.
  "I [had] the rest of my life to work," Tabb said, "but there is a window of opportunity and if you don't seize that opportunity, it closes real soon."