COVID-19's Impact on UCM's Future Educators
  From in-person mask mandates and social distancing to virtual learning, COVID-19 has brought significant changes to education and the classroom environment. These changes have especially impacted education majors at the University of Central Missouri, as many of them haven't been able to have the desired in-person classroom experience with professionals and students that previous education majors have had.
  Aubreigh Allen, a senior with an emphasis in elementary education, said she was hoping to have more observation hours to gain clarity on what grade or subject she would like to teach and said that COVID-19 has brought uncertainty to her academic future.
  "It's bringing up more questions than I think it is answering them," Allen said. "I don't feel as prepared, I don't feel as ready to be a teacher, especially now, and I think that if I would have had more observation time, I would feel better."
  Allen is currently doing classroom observations, which she said is going well, but has its challenges.
  "It is good because I'm getting into the classroom and finally observing. It's definitely different from what I remember in elementary school and from before COVID," Allen said. "It's going well. It's just a lot to take in and a big learning curve because of not having as many observation hours and for COVID as well. It's just a completely different environment in the classroom now."
  Kristen De Napoli, a sophomore with an emphasis in early childhood education, said that COVID-19 has impacted her because of the nature of education.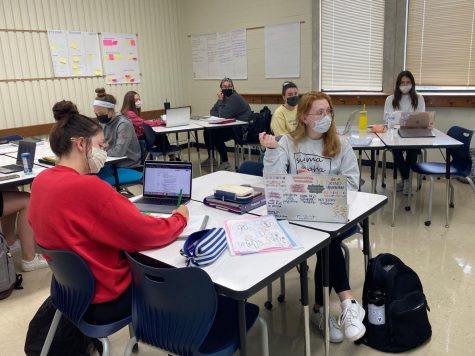 "It has definitely been hard being with education," De Napoli said. "A lot of it's hands-on experience. It's a lot of learning, it's a lot of teaching, being there, interacting with the kids, but with COVID we can't go into the schools. We can't just do our observations like normal."
  De Napoli said COVID-19 forced her to do virtual observations, which she said was not the same experience as doing observations in person. She said she will be doing in-person observations next semester, which she anticipates will be a normal experience.
  Chloe Valleroy, a senior with an emphasis in middle school education/social studies, said COVID-19 limited her in-person experience and forced her to partake in more virtual training.
  "I felt that it was very not worth it because I didn't learn anything," Valleroy said. "Virtually teaching, virtually doing stuff as a new teacher, you don't learn nearly as much as you do in a classroom."
  Valleroy said she will start doing in-person field work in October, which will include doing her own lesson plans and teaching.
  "I'm really excited for that process," Valleroy said. "I feel like I finally get to be a teacher."