Creating some tattoo culture downtown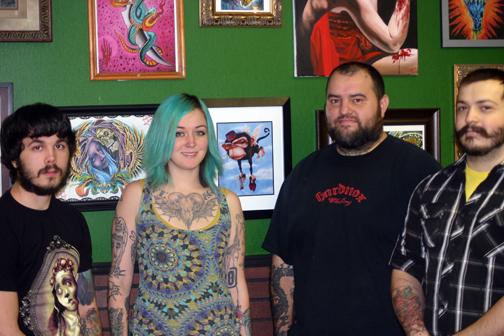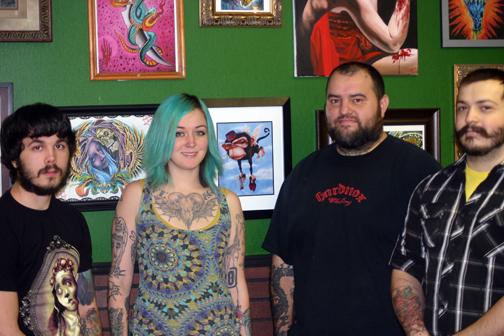 By MITCHELL BROWN
(WARRENSBURG, Mo, digitalBURG) – There's a new social club downtown, the Dublin Social Club, but don't expect to find pints of Guinness or lectures on Celtic history.
Instead, expect to find tattooists who are dedicated to tattoo culture.
The Dublin Social Club, owned by Tony Madrid, opened Thursday at 126 N. Holden St.
The shop's name pays homage to an era of tattooing when tattooing was illegal in places like New York City, and tattoo shops operated under the moniker of "social clubs." The name is also a nod to the Shamrock Social Club, a tattoo shop in Madrid's hometown of Los Angeles.
Madrid has been tattooing in Warrensburg for almost a decade, starting at The Zone Tattoo and Body Piercing in 2004.
But Madrid was tattooing in Colorado before moving to Missouri. He said he came here because there were too many tattoo shops in Colorado. Madrid eventually left the Zone and opened up Living Art Tattoo in 2007 along East Pine Street, not far from his new shop.
Madrid said during the seven years he worked in southern Colorado, the number of tattoo shops went from four to 32.
"That would be the equivalent of 11 here," he said.
Business in Warrensburg has been good for Madrid. He said Warrensburg is anomalous in that business doesn't dry up in the winter. He said many of the tattoo artists he knows in Colorado experience a decrease in business during the winter months.
New clientele frequently arrive here thanks to the University of Central Missouri and Whiteman Air Force Base.
"You get a fresh batch of freshmen, and they all come with that high school graduation money," Madrid said.
Madrid said he closed Living Art and opened Dublin Social Club because the new location is more visible and has more of a connection to downtown.
Adam Warner, tattooist at the Dublin Social Club, said an advantage of working in a small town is that you get to know more people. That makes it easier to build a clientele base.
On multiple levels, ranging from the shop's decor to the name, the Dublin Social Club is Madrid's vision.
When entering his new shop, what's missing is tattoo flash on the walls. Tattoo flash is the common, typical designs that line the walls of most tattoo shops. These include images of Chinese characters, patriotic symbols, and pinup type artwork that a customer chooses, and the tattoo artist replicates.
Terra Walker, tattooist at the Dublin Social Club, who formerly worked at Living Art, and a recent UCM alumna, said the lack of tattoo flash on the walls encourages custom work.
Madrid said he got rid of the tattoo flash to help discourage spur-of-the-moment tattoos and to cut down on doing the same tattoo.
"In a college town, you'll get 20 to 30 butterflies a week," Madrid said. "Butterflies pay the bills, but they're not very satisfying."
Madrid said he has a diverse clientele, which he attributes to an increased acceptance of tattoos. Madrid said tattooing is not so underground or shunned anymore.
However, he said reality TV shows about tattooing, like "LA Ink" and "Miami Ink," have negatively impacted the industry.
"Those guys made it look like it was the coolest thing on the planet to tattoo, and they portrayed a lifestyle like you were a rock star or you were rich because you tattooed or just the world was your oyster if you tattooed, and that's not the case," Madrid said.
He said these reality shows served to erode tattoo culture as it once was – a base of people who respect and revere tattooing as an art form.
"There used to be a respect amongst artists," Madrid said. "There used to be an unwritten code that everyone followed. And that all disappeared when everyone picked up a tattoo machine and thought they could tattoo."
Madrid is in favor of stricter regulations on the tattooing industry. He said such measures could weed out those who want to mimic the glamorized version of the industry portrayed on reality shows.
"Anyone who has a love for this industry will not cry about regulations," Madrid said.
Although Madrid stays busy, he said there is a lack of tattoo culture in Warrensburg. He said one of his aims with the new shop is to change that. Madrid said those who are truly into tattoo culture see it as more than just a fad.