Jenny Senior Spotlight: Olivia Sobaski
Written by Meah Copeland, Reporter
October 9, 2020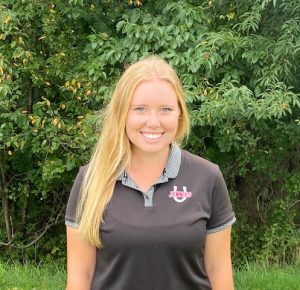 Olivia Sobaski is a masters student in the business administration program and an award-winning golfer. She will be graduating from the University of Central Missouri in 2021. Sobaski has been playing golf since she was 10 years old  and started competing in tournaments at 13 years old. She has earned MIAA Scholar-Athlete honors every year and has been a four time member of the MIAA Academic Honor Roll. 
  As a freshman in 2017, Sobaski earned MIAA Freshman of the Year and Second Team All-MIAA honors. She became the first Jenny to win a tournament when she captured individual medalist honors at the MIAA Fall Preview. She led the team with a 77.81 stroke average, which was the best for a single season in Jennie's Golf history and also placed 11th at the NCAA Super Regional.
  The next year, she continued to improve her skills and became the first Jenny to play at the NCAA National Championships as an individual. She completed 12 events with a per-round average of 77.75, setting another UCM record. Sobaski had a 36-hole low of 149 in back-to-back tournaments and set a new record for 54 holes shooting at the NCAA Division II Regional Championship, where she finished fourth overall. 
  During her junior year, she became the first Jenny in team history to earn an All-Region Award by the Women's Golf Coaches Association. She also made the All-MIAA First Team for the second consecutive year and played in all 24 rounds. She helped the Jennies to their first National Championship appearance. Sobaski averaged 76.83 strokes per round and set a Jennies record low for a full season. She helped the Jennies at the National Championships with a +23,242 for 54 holes and tied for 47th place. 
  Last year, Sobaski was the first Jenny to shoot below 70 for a single round of the MIAA Fall Preview. She played in 15 rounds, averaged 77 strokes per round and finished with three top-10 finishes. Sobaski made her second straight WGCA All-Region Team and became a four-time WGCA Scholar All-American. 
  Sobaski said her favorite moment in her career was when the team qualified for nationals. They played a 36 hole round and a 3-hole round. She said traveling with the team was the coolest experience. 
  Teammate Emma Solovic has known Sobaski for many years and competed in summer tournaments with her. When Sobaski committed to UCM, Solovic decided to look further into UCM herself. Solovic said, "she is a very hard worker, sets a good leadership attitude and pushes the underclassman to work harder." 
  When Sobaski heard the news about the season being suspended, she was not surprised, but disappointed. Sobaski said she will miss traveling with the team and made great memories spending time on the road with them.
  "Based on other conferences, I had a feeling it was going to happen. If there was a season, I would've been surprised," Sobaski said. 
  During her career, she has gotten close to her teammates and coaches. She said the relationships she has will be with her for the rest of her life, and she is thankful for an awesome coach and great teammates.
  Chris Port is the head coach of the Jennies Golf Team. When he saw Sobaski's high school career stats, he thought that she would be a great fit for the team. 
  "She succeeds in the classrooms and does excellent on the golf course. She is a nice kid and has a competitive spirit," Port said. 
  He said they were fortunate enough to have her for four years, and she has made the program much better. 
  Although Sobaski had a successful career while at UCM and considered playing professional golf, she doesn't see that as a career path.
  "I am grateful for it being a part of my life for the last four years, and I definitely have a larger purpose than being a student athlete at UCM."
About the Contributors
Meah Copeland, Reporter
Meah Copeland is a reporter for the Muleskinner Newspaper. Her major is Digital Media Production with an emphasis in Sports Reporting and Broadcast. Meah...
Matthew Goldsmith, News Editor
Matthew Goldsmith is the news editor of The Muleskinner and a graduate student at UCM. He recently graduated from Wichita State University with a degree...