Fall Undergrad Enrollment Hit; Graduate Studies on the Rise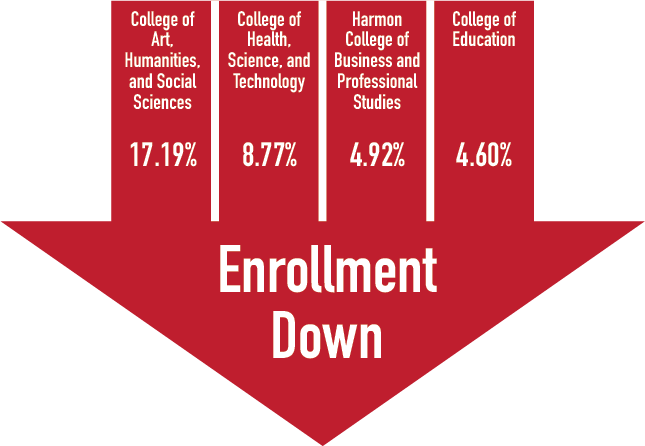 The coronavirus has produced unprecedented challenges for colleges and universities. Many believe UCM is no different as it tries to deal with these challenges.
During COVID-19, the university has seen a decrease in enrollment in every college and the headcount is down approximately 10% from last year, which is what the university expected for this semester.
A few colleges have been particularly hit hard, including the College of Art, Humanities, and Social Sciences, which is down 17.19% and the College of Health, Science, and Technology, is decreasing 8.77%.
Many believe it is an unfortunate reality that the global pandemic has changed the collegiate plans of many. Some students are taking gap years, and college is financially impossible for many others.
One issue, in particular, that is hurting UCM is the lack of international enrollment this fall.
Randall Langston, the executive vice provost for enrollment management at UCM, said international enrollment is down 21%. He said the main reason enrollment is down is because of travel restrictions.
Despite the drop in enrollment, he is confident international enrollment will go up during the spring semester, with "hundreds" of students deferring enrollment to the spring semester. "Many of the students, if not all, will be here in the spring," he said. With universities across the world struggling, it's important to consider the traits that can help distinguish the university during this time. Langston said along with affordable tuition, UCM has a campus community that students want to be a part. Gregory Streich, the chair of the School of Social Sciences and Languages, said an advantage UCM has is it is in the "sweet spot" when it comes to size, explaining it isn't an overly large or small university.
Despite the decrease, fall enrollment isn't an entirely negative situation. Streich said his college's first-year enrollment is up in terms of credit hours generated.
In graduate studies, despite the overall Fall Undergrad Enrollment Hit Hard; Graduate Studies on the Rise Muleskinner headcount being down 2.46%, current domestic credit hours are up approximately 0.25%. Possible explanations are students who have lost jobs or people who have a greater amount of free time while working from home.
Graduate student Cole Braun said he read in a class discussion board about a student who decided to return to graduate school because of a greater amount of availability. Braun saw the effects of COVID-19 on fellow students. He said the virus didn't affect his decision at all, but said he also heard from a student who decided to drop out of college due to the virus.
Along with the decrease of enrollment, the virus has brought new concerns of all kinds to university employees.
Braun is also an employee for Sodexo, working with food service on campus. He said his focus is to keep full-time staff and students safe on campus, while also providing them with the meals they are paying for.
Streich said the abrupt switch to online learning last semester was very challenging for his faculty, due in part to large class sizes. With UCM students returning to campus, the possibility of reverting to online-only instruction exists. Streich said that in the event if the university does go online, his faculty is prepared. "I have no insider information, but given what might happen, it would behoove them to be anticipating how to react if that were to happen," he said. UCM has taken a number of steps, including a mask order, to hold in-person classes safely.