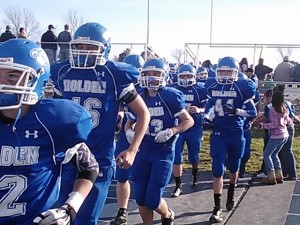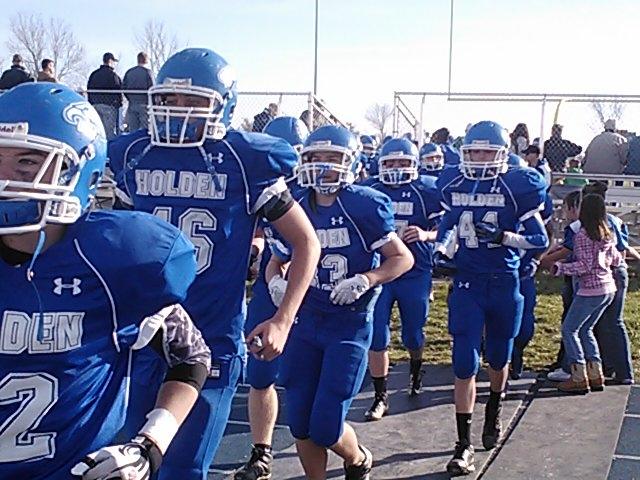 By ALEX AGUEROS (HOLDEN, Mo., digitalBURG) – An early offensive surge by the Blair Oaks Falcons and costly turnovers were the deciding factors in the Holden Eagles' 46-32 loss Saturday in the Class 2 football semifinal.
First-year head coach Mike Hendrick said he was pleased with his team's effort.
"Even when we're down 14-15 points, they won't give up," he said. "I think that's a testament to how they have been all year long. They should be proud of what they have done this season."
The Holden seniors also kept their heads up after being handed the loss.
"It's the best season we've ever had in Holden history," said senior Matt Borgen. "We played our hearts out the whole season and couldn't do anything better."
Senior Jeff Miller agreed the team played well.
"It was a great season," Miller said. "It was an honor to play with my teammates. I couldn't ask for anything more."
Blair Oaks reeled off two long rushing touchdowns in its opening drives. On their first play from scrimmage, senior running back Eli Roberts ran 36 yards through the heart of the Eagles' defense, setting up a score for fellow senior running back Derek Otto.
After a three-and-out by Holden, Eli Roberts dashed for an 80-yard touchdown, giving Blair Oaks an early 14-0 lead. The Falcons would keep its lead the entire game.
Junior linebacker Matt Laing energized the Eagles by blocking a punt, creating an easy 1-yard touchdown for senior Max Mickey. After a missed extra point, Holden went into the second quarter down 14-6.
The second quarter proved to be the lowest-scoring of the game. Blair Oaks scored on a 1-yard Derek Otto touchdown after a lengthy drive that included a fake-punt run for one of the three first downs.
The Eagles answered with a 23-yard Jordan Sullins touchdown reception on a flea flicker from Max Mickey. An unsuccessful 2-point conversion put the score at 20-12.
The Holden Eagles put another touchdown on the board when senior Chase Wright fell on a Blair Oaks fumble in the end zone. With another failed 2-point conversion, Holden trailed 20-18 at halftime.
Significant third quarter mistakes and a strong Falcons defense held the Eagles scoreless. While Holden was blanked, Blair Oaks piled on two more touchdowns.
Derek Otto claimed his second touchdown of the day, while senior quarterback Daniel Castillo earned a touchdown on a short run. Despite Max Mickey breaking the all-time Missouri record for single-season rushing yards, Holden went into the fourth quarter down 33-18.
Blair Oaks pushed its lead to 40-18 when a screen pass to Derek Otto turned into his third touchdown of the day. Holden would not give up. Scoring on a 25-yard pass to senior receiver Matt Borgen, converting an onside kick, and scoring on another Max Mickey touchdown, the Eagles upped the score to 40-32.
Blair Oaks put a halt to Holden's momentum with one more touchdown, and intercepting Jeff Miller's passes on two consecutive drives.
Blair Oaks moves on to the Class 2 Missouri State Championship Nov. 24 against Lamar High School.
Story continues below advertisement