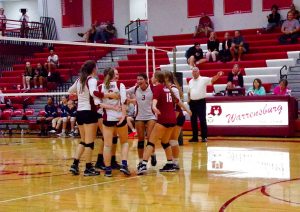 Warrensburg volleyball was back in action Thursday against St. Michael the Archangel (Lee's Summit), winning a close contest in three sets. The Lady Tigers dropped the first set 25-23, but claimed the final two sets 25-19 and 26-24.
The Lady Tigers accumulated a sizable winning streak earlier in the season, which included a win at the Higginsville Spikefest Tournament before falling to St. Pius in three straight sets to end the streak at 10 games. The Lady Tigers were looking to get back on track against a familiar foe in St. Michael, a team they defeated earlier in the season in three sets.
The first set remained close the entire way, with the two teams being tied at 10-10, 16-16, and 23-23 at respective points in the contest before the Guardians managed to pull away for a 23-25 victory.
Losing the first seemed like a manifestation of previous issues for the Lady Tigers. Coach Trudy Fleeman attributed slow starts as a problem in the loss to St. Pius as well as other games throughout the season.
Despite these issues, the Lady Tigers jumped out to an early 9-3 lead to begin the second set, forcing the Guardians to call a timeout. The timeout proved beneficial, as the Guardians managed to tie the set at 15-15, but the Lady Tigers managed to take control, outscoring the Guardians 10-4 to close the set, giving them the 25-19 win.
The final set played out much like the first, with neither team able to gain a sizable advantage. The Guardians lead early at 6-8 before the Lady Tigers took the lead back by a score of 16-14. The Guardians managed to tie the set at 22-22, but the Lady Tigers buckled down to take the set 26-24.
Coach Fleeman said a strong mental attitude was the key to pulling out the win, and the team is taking steps to meet their goals.
The Lady Tigers improve to 12-2 on the season. They return to action at 5:00 p.m. on Tuesday at home against conference rival Smith Cotton.

Story continues below advertisement