Ucmo_snaps' story taps out: Popular snapchat account suspended, deleted
Editor's Note: This version explains the function of the third-party app that led to the suspension of the Snapchat account.
By ALEX AGUEROS
Sports Editor
(WARRENSBURG, Mo., digitalBURG) — A Snapchat message is best described as self-destructive. "Snaps" are picture or video messages sent through the popular mobile app. Since the app was developed in 2011, users send more than 700 million Snaps each day.


When the fall semester began, a Snapchat account named "ucmo_snaps" surfaced, and quickly gained an audience of more than 3,000 viewers broadcasting unfiltered — and, many times, illegal — scenes around campus and the community. Drugs, nude photos and alcohol were popular subjects.
Much like the photos they shared, ucmo_snaps was abruptly and permanently removed last Friday.
UCM assistant director of media relations Jeff Murphy said the university was not involved.
"This is something we have no involvement with," Murphy said. "We don't endorse (the account) in any way."
Murphy did say he was aware of it, and saw a few ucmo_snaps himself.
On Thursday, Sept. 3, senior criminal justice major Sara Egan logged into the ucmo_snaps to find Team Snapchat had suspended the account, citing a third-party app manipulating Snapchat was against its terms and agreements. She deleted the account a day later.
Egan did not create the account, but befriended the creator by sending messages and pictures to ucmo_ snaps. The creator declined to speak to The Muleskinner for this story.
Egan said she met the creator after having conversations over Snapchat.
"I sent him pictures that he liked," Egan said. "It was always like funny pictures. He was always like, 'Oh thanks for sending' or 'That's funny.' So I texted him, 'Who are you?' and we just got to talking."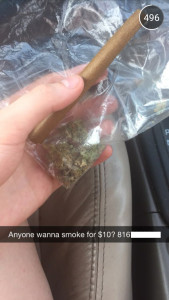 When the creator was leaving town for Labor Day weekend, Egan asked for the account. They obliged, and he taught her how to broadcast the Snaps. By then, the account had gained more than 2,700 friends and was infamous for illicit content. She said she filtered the posts more than the owner did.
The account functioned through a third-party app, which allowed users to download and post received snaps to their own story.
"(The creator) and I disagreed on what we should post," Egan said. "When he handed the account to me, I said I'm not posting any nudes and no drugs … name drops, any license plates, no addresses."
During the weekend of Aug. 27-30, ucmo_snaps featured pictures and videos of users smoking weed, drinking beer and dancing at house parties. Sometimes the messages functioned as an invite, complete with a home address or phone number.
Egan said she was not surprised at the amount of marijuana, beer and nudes received (she said the creator received dozens of nudes per day, mostly from men), but that users were so eager to send them.
"I didn't think people would be stupid enough to send in pictures of them smoking or cutting lines of cocaine when it's tied to their snapchat name," Egan said. "Ultimately, nobody knows who's behind ucmo_snaps. It could've been a police officer that created it and now all these idiots are sending in pictures of them doing cocaine.
"They all thought they were cool. It surprised me."
Local crime was no doubt part of ucmo_snaps' allure, even for the police. Egan said law enforcement contacted the creator, regarding information about the drugs posted.


Bill Brinkley, assistant director of administrative services at the UCM Department of Public Safety, issued a statement about the Snapchat account Wednesday. He said he could not verify if Public Safety was involved in a ucmo_snaps investigation.
"The UCM Department of Public Safety regularly conducts investigations involving social media including Snapchat," Brinkley said. "We consider information gathered through social media to be valuable during investigations.
"We were aware of the account but not of it being shut down."
The Warrensburg Police Department had no comment regarding the investigation.
Egan said when Team Snapchat messaged that ucmo_snaps was locked, she texted the creator, who expressed little concern.
"(The creator) didn't seem to be too bummed," Egan said. "I screenshot (the Team Snapchat message) and sent it to him and I said something like, 'Oh, f—, what are we going to do? How do I unlock this?' and he goes, 'S—. Oh well.' … I couldn't believe it."
Some schools, like the University of Missouri, have their own official Snapchat channels. The content is curated by local users and is used to promote the school. Those accounts, a sign of the rising popularity of curated Snapchat channels as media outlets, inspired ucmo_snaps. Currently, users may browse content from ESPN, CNN, Comedy Central and Buzzfeed through Snapchat channels.
At some point in its three week existence, ucmo_snaps was the talk of campus. Students, professors, custodians and administrators had seen the pictures and videos, or at least heard about them. Egan tried to describe ucmo_snaps' appeal.
"It's kind of like you get to feel what other people around you are thinking," Egan said. "It's kind of fun … It sucks that it's gone."
Alex Agueros can be reached at 660-543-4050 or on Twitter @abagueros2.