'Spring Awakening,' an edgy, topical musical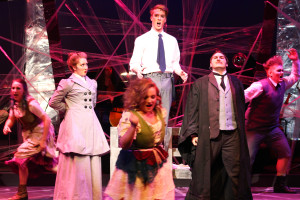 By PAUL JOYNER
Muleskinner Photo Editor
The UCM Department of Theatre and Dance opened Wednesday night with the production of "Spring Awakening" in the James L. Highlander Theatre. Originally written in the late 19th century, the story takes a modern twist that incorporates alternative rock and style in its revival at the turn of the 21st century.
Freshman Connor Bosworth, who portrays Georg, said the play is as topical today as it was when it was first written.
"Seeing 'Spring Awakening' will make you question how we raise children but also feel hopeful to know that they can change for the future," he said.
Junior Brooke Myers, who portrays an unnamed character, praises the musical for its high energy and award-winning music.
"When you put those two things together, you get a show that has a strong message that is fun to watch," Myers said. "I think everyone that sees 'Spring Awakening' will take something away from it. I know I have."
The play also deals with issues of self-discovery, sexuality and the coming-of-age frustrations of being a teenager.
The play is directed by Julie Rae Mollenkamp, professor of theatre, and will run April 22-26. Tickets can be purchased at the box office near the Highlander Theatre.