WFD, ambulance district honored with lifesaving award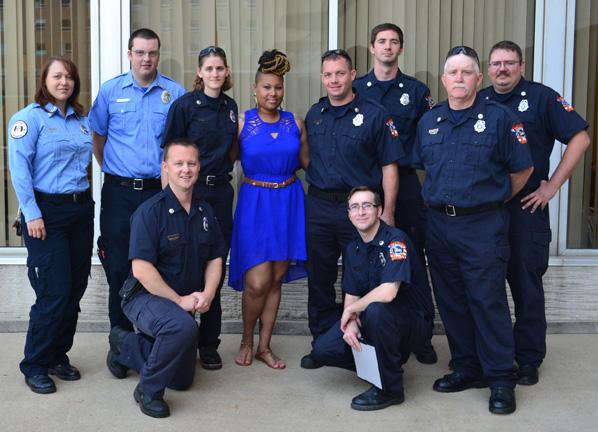 (WARRENSBURG, Mo.) – Warrensburg Fire Department, Johnson County Ambulance District, and Lifeflight Eagle personnel were presented with the Great Save Award from Research Medical Center in Kansas City.
They were presented this award on Friday, May 23, for their lifesaving actions during a motor vehicle accident that occurred Nov. 23, 2013, in Warrensburg.  Research Medical Center presented these awards in conjunction with EMS Week.
The accident occurred when a vehicle lost control and hit a tree on South Washington Street. Monique Hardy was a passenger in the vehicle. After a prolonged extrication due to the extent of the damage, Hardy was transported by Lifeflight Eagle to Research Medical Center.
She suffered numerous injuries, but has fully recovered. Fire and EMS personnel were able to meet Hardy and talk with her after the reception.