UCM hires two new coaches
By ALEX AGUEROS
Muleskinner Sports Editor
(WARRENSBURG, Mo., digitalBURG) – Central Missouri hosted back-to-back press conferences Tuesday morning to introduce new head coaches for its basketball and baseball programs.


Monday, Kyle Crookes was promoted from assistant baseball coach as successor to seven-year head coach Tom Myers. Doug Karleskint, of Arkansas Tech, was announced as UCM's basketball head coach the same day.
Speaking to a room of about 40 Mules fans, staff and student-athletes, UCM President Charles Ambrose and athletic director Jerry Hughes introduced the coaches.
"It is really an exciting day for UCM athletics and the entire university of central Missouri campus," Ambrose said. "As president of the university, I couldn't ask for a better coaching staff or athletic department that really meets the mission of both institutions and what the mission of division two athletics is."
Crookes is entering his third season at Central Missouri, having spent eight seasons as head coach of Hutchison Community College in Hutchinson, Kan. He said his junior college background and the current Mules roster is an advantage.
"We're going to continue to have a mix of junior college players and high school players," Crookes said. "The great part of junior college, you get to deal with both high school and collegiate levels, so that relationship will help too."
Tom Myers recently retired as head coach of the Mules after serving for seven years, earning four MIAA regular season titles. In 2014, Mules baseball missed the NCAA Regional tournament for the first time in 20 years.
Crookes said following Myers is a big job, and one that Myers is willing to help with… for a price.
"I've certainly got big shoes to fill," Crookes said. "There's so many things administratively that he's helped me out with, and he's going to have to baby me through some stuff. The only thing he's asked in return is I have to help him move."
BASKETBALL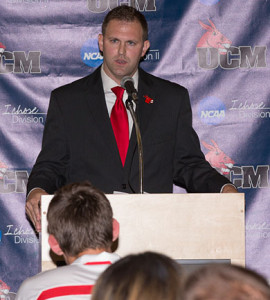 Doug Karleskint served five seasons in the Arkansas Tech basketball program, four of them as head coach.
"It is truly a dream come true," Karleskint said. "I always held Central Missouri in high regard, and I'm very humble to be standing here today."
After the conference, Karleskint said he would keep first-year assistant coach Nate Johnson, and said another assistant will be determined later.
"I will take my time to find the right fit for Central Missouri," Karleskint said. "Given the resources, I'm sure we will have a great pool of candidates to choose from to fill the staff."
Karleskint replaces Kim Anderson, who was recently hired as head coach at the University of Missouri in Columbia.