Cafe introduces DIY classes, reading group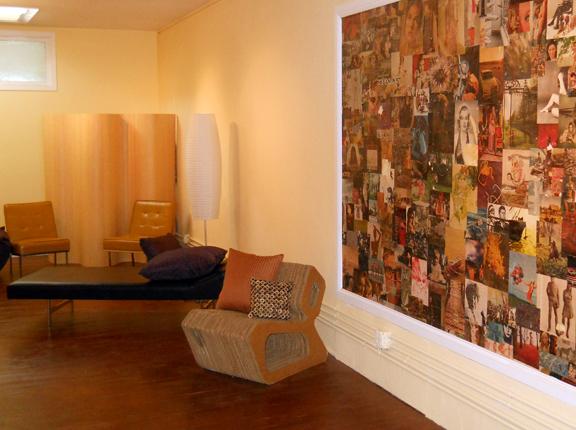 By Michael Freeman (WARRENSBURG, Mo., digitalBURG) –
The space above Café Blackadder may be small, but yoga instructor Andrea Glinn has big plans for the area she calls the Upstairs Adder.


Glinn, who also works as a waitress at Café Blackadder, is looking to transform the space into a Community Arts Center, starting with a series of do-it-yourself classes starting this fall.
The courses will take place on alternate Wednesdays at 7 p.m. starting Sept. 12.
Quincy Jennings, of Freeride Bike and Skate, will kick off the series with a lesson on bicycle repair and maintenance. The second course of the series is scheduled for Sept. 26, and will focus on fabric, including natural and resist dying techniques. Classes are $5 per individual and participants must register in advance at the Café Blackadder.
Glinn said the subject of future classes depends on what people in the community are interested in teaching.
"I have a handful of people who want to teach classes ranging from dancing to painting, to things like meditation and beekeeping," she said.
Glinn and her husband, Bob, recently moved from Kansas City to a 3-acre homestead a few miles outside of Warrensburg. They have several hundred fruit and nut trees and tend a vegetable garden. Glinn said she intends to raise chickens as well, as soon as their straw bale home is completed.
Glinn, along with Pat Cook, started teaching yoga classes above the café in June. Now she wants to attract more people to the hardwood-floored, vintage-decorated space that was once a head shop.


"It's nice to help people realize that there is a network of others that are interested in all of these things," Glinn said. "I think it will bring like-minded people together."
Jennings said the idea for the bicycle repair class came about through a lunchtime conversation with Glinn at the café.
"Andrea asked me if I would be interested in taking part in the series, and I said I would love to do a bicycle class," Jennings said. "I enjoy teaching people do-it-yourself sort of things."
Glinn said Jennings is a good fit for the class.
"I thought it would be a season-appropriate workshop," Glinn said. "I think he has a great personality and will bring in a wide variety of people."
Jennings is a graduate of the United Bicycle Institute in Oregon, which offers a demanding two-week program highly respected in the biking world.
"It was probably the most intense two weeks of my life," Jennings said with a laugh.
Jennings had to assemble a bike from the ground up in order to graduate, but for this course he will teach participants the basics of bicycle maintenance and repair. The one- to two-hour session will cover minor adjustments to shifting and breaking, how to repair a chain, what to pack for race day, and some other fundamental bicycle knowledge.
Jennings said many riders buy a bicycle unaware that maintenance is even needed to keep their bike in good shape.
In addition to the teaching series and yoga lessons, a writers circle will meet alternate Wednesdays at 7 p.m. beginning Sept. 19. The free meetings are for recreational and professional writers alike, and will be led by UCM instructor Matt Bird-Meyer.
Glinn said she hopes the evening classes will connect a variety of people in the community. Her yoga classes in the Upstairs Adder are quite diverse, bringing together people of all ages, backgrounds and skill levels.
Glinn said she would like to see the Upstairs Adder continue to grow, but within its own means. "It's not a very large space," she said. "We want it to evolve organically and not have too many expectations starting out."
[email_link]