Tickets for Obama's speech run out quickly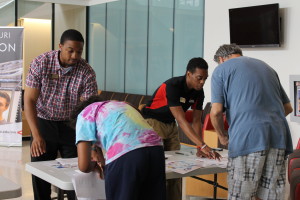 By NICOLE COOKE
(WARRENSBURG, Mo., digitalBURG) – Hundreds of people lined the University of Central Missouri campus this morning in hopes of receiving a ticket to President Barack Obama's speech Wednesday.
UCM staff opened the Student Recreation and Wellness Center at 6 a.m. and people were already lined up, said SRWC intern Darryl Rutt.
The line stretched from the SRWC, where the free tickets were distributed, to Holden Street, near the Elliott Union.
Staff started distributing tickets at 10 a.m., and ran out just shortly after 11 a.m. A few stragglers came in after the tickets were gone, only to find out they were out of luck. At this time it is unknown how many tickets were handed out, but one student said she was the 300th person to walk in the door, and it seemed there were still hundreds behind her.
Members of the military, veterans and military dependent students can obtain a ticket from the UCM Office of Military and Veteran Services. There are 150 tickets reserved and are available on a first-come, first-served basis from 10 a.m.-3 p.m. today. Student ID and military ID is required.  At press time, Delilah Nichols, coordinator of military and veteran services, said there was a handful of tickets left for eligible students.
For those who were unable to obtain a ticket, Elliott Union rooms 236 and 238 will have live streaming of the event Wednesday. The UCM Media Network will also be providing a live webstream, which can be viewed at www.ucmo.edu/comm/medianet.
UCM students Lauren Blanchfield and Chelsea Hurd received tickets to attend Wednesday's speech, although they got tickets as a precaution just in case they don't end up volunteering during the event. The two Administration Building student workers are on the list to volunteer, but won't receive their assignments until tomorrow night. Whether or not they get to volunteer Wednesday, they've still been involved with the process the past few days.
"The phones have been ringing off the hook this week asking about what's going on, how to get tickets," Blanchfield said. "Every time you answer the phone you get four voicemails in the process."
Getting hundreds of people in and out of the SRWC sounds like it could be chaotic, but Beth Rutt, director of campus activities, said it was an easy process.
"It went really smoothly," she said. "People were cordial and waited in line. There were only a few people who showed up who didn't get a ticket."
Many people in line said they were excited for the opportunity to see the president in Warrensburg, including Blanchfield and Hurd.
"It's a once in a lifetime opportunity," Blanchfield said.
"This will put Warrensburg on the map," Hurd said. "It's great publicity for the university and could help get more students."
Beth Rutt agreed, saying the event will be great for current and future UCM students.
"UCM is doing some great, cutting-edge things, and this is giving us recognition for that," she said. "This recognition will benefit UCM students, current and present."
Obama's speech will take place in the large court area on the lower south part of the SRWC, which is located at 500 S. Maguire St. Doors open at 1:45 p.m. and the speech is scheduled to start at 4:05 p.m. Tickets from today's distribution are required for entry.
For security reasons, attendees are asked to not bring bags and limit personal items. No signs or banners will be permitted. All attendees will go through airport-like security.
Those attending are encouraged to park in lots 60 and 62, located east of Ellis Hall, 310 Christopher St. Parking is also available in lots 10, 29, 30 68, 32, 28, 11 and 50, which are near the James C. Kirkpatrick Library. Parking for the event is free.
A free shuttle will be available for those attending. Pickup locations will be at the east side of the JCK Library, the west side of the library and on the east side of Ellis Hall.
Several buildings on campus will be closed Wednesday, including Lovinger, Art Building, Art Annex, Wood, Martin, Humphreys, Chapel, Diemer Residence Hall, Ellis Residence Hall (after noon) and Max B. Swisher Skyhaven Airport.
Click here for complete details of Obama's Wednesday visit to Warrensburg.