Replacing some of the best
Story by JASON STRICKLAND (Sports Editor)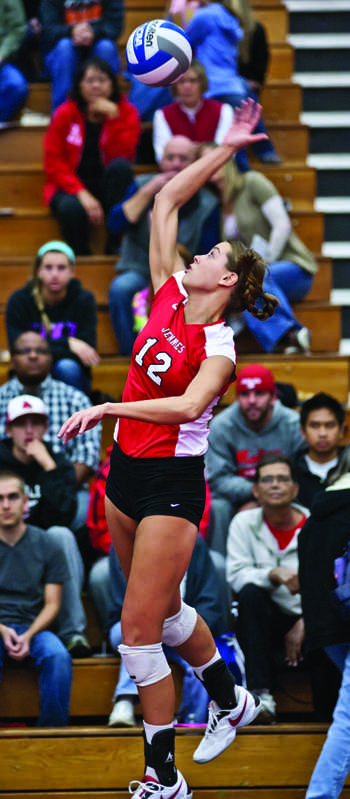 The Jennies volleyball team is coming off a 30-5 record and an Elite Eight appearance last season, but they are coming into the 2012 season without two all-time great players in Jens volleyball history in Allie Huffman and Paula Harris.
The Jens also lose All-MIAA performers Taylor Krejci and Kelsey Ortwerth.
Huffman has the third most kills in Central history, while Harris is fifth. Head coach Flip Piontek said he is more concerned with replacing the ball control skills, though.
"The loss of the passing, the ball control skills is almost more of a loss than the loss of the offensive skills," Piontek said. "We have done a lot of work this fall trying to replace the ball control skills that will allow us to run our offense."
Krejci was a defensive specialist, and Piontek said freshman Annie Reilly has done a good job in practice at Krejci's spot.
As for replacing hitters Huffman and Harris, Piontek said freshman Carly Soika and sophomore transfer Aubri Renshaw are on track to take those spots.
Piontek plans on having senior Lisa Moore take Ortwerth's spot on the right front.
Senior Bradye Peniston said it took some time to get a rhythm going because it's a different group on the court together.
"The first couple of days were different because we have had the same three girls out there [in the past] as far as ball control, passing and starting offense, so it took a little while, but it's looking good now," Peniston said. "Everyone is comfortable beside each other on the court and there is a lot of talent."
Piontek said the new lineup should be successful.
"As much as I hate replacing those four seniors last year, I think we are on the road to doing that, and I expect the players to perform quite well as we try to work through trying to find these positions," Piontek said.
Junior defensive specialist and libero Jamie Haworth said the defensive newcomers are doing great so far.
"We do have some young girls stepping in and they are doing an awesome job," Haworth said. "[They are] a very coachable and young group of ladies. I think we are going to end up being very good defensively."
The Jens' season starts Friday at the Argo Fall Classic in Pensacola, Fla., as the Jens face No. 10 Indianapolis and West Florida. Saturday, Central plays No. 2 Tampa and Lock Haven.
"I think playing tough competition early helps us prepare for conference, but playing tough teams early also prepares us to play those teams at the end of the year if things work out," Piontek said.
Peniston and Haworth agree playing ranked teams early helps the team play better later on in the season, and it doesn't hurt to take a trip to Florida either.
"It is very difficult and very stressful, but it has proven the last couple of years, even if we do start off with a loss, it's such a strong start that we have higher expectations for our team and higher level of play," Peniston said. "It carries us through the season."
"It gets us excited and sets fire under our tails to look forward to that…we also get to go to Florida, which is always a fun trip," Haworth said
The Jens are ranked No. 5 in the national preseason coaches' poll, but Piontek said he expects them to be ranked higher than that at the end of the season.
Haworth and Peniston said their goal is to win a conference championship and a national championship.