Hastings to host creators of 'Dream Thief'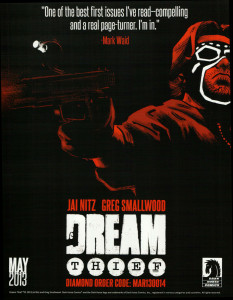 By ANDY LYONS (digitalBURG) – It isn't too often that comic book artists and writers venture to Warrensburg, Mo. With events such as Planet ComicCon earlier this summer, which was dubbed Kansas City's largest comic and pop culture convention, it seems even less likely to have a visit. However, Hastings in Warrensburg has an event this Saturday that features writer Jai Nitz and artist Greg Smallwood who work together on "Dream Thief," a five-part mini-series published by Dark Horse Comics.
Hastings has plenty of copies of the comic, including a Hastings Exclusive variant of the cover. Jay Hicks, store manager, sees it as an opportunity to bring the community together because of the large amount of comic book fans that frequent the store.
"Hastings is excited to host Jai Nitz and Greg Smallwood at our store," Hicks said. "We look forward to a spectacular event. Jai Nitz has a strong following, and our customers will have a great opportunity to pick up the Hastings Exclusive edition of 'Dream Thief' and have it signed by both the writer and the artist behind it."
Nitz has written for Marvel, DC, Image, Disney, Dynamite and other publishers. According to his website, www.jainitz.com, he graduated from the University of Kansas in 1998 with a degree in film studies. He also works as a professor at the University of Kansas teaching courses on comic books and film.
Smallwood is a newcomer to the comic book industry. In an interview with Timothy Callahan, a columnist for www.comicbookresources.com, Smallwood said that he got connected with Nitz while handing out fliers of his work at Astrokitty Comics in Lawrence, Kan., in 2009. After getting acquainted, they worked on the comic, with Smallwood designing the art based on Nitz' script. To view more of Smallwood's artwork, visit www.gregsmallwoodtheartist.com.
They initially pitched "Dream Thief" in 2010 but no publishers picked it up. According to the interview, they picked up work again in 2011. Smallwood is quoted as saying, "Jai and I had gotten to know each other a lot more since the creation of the first pitch and our friendship made the creative process a lot more synergistic. We created a second pitch which consisted of the script for the entire first issue, the first five pages illustrated by me, and an Alex Ross sketch for the cover. Dark Horse picked us up and we went from there."
The pair will be at Hastings signing autographs and meeting with fans Saturday, June 8 from noon to 4 p.m. Hastings is located at 723 N. Charles St. behind McDonald's.
Andy Lyons is an employee at Hastings and managing editor of the Muleskinner.