A walk to remember: Dave Brown's trek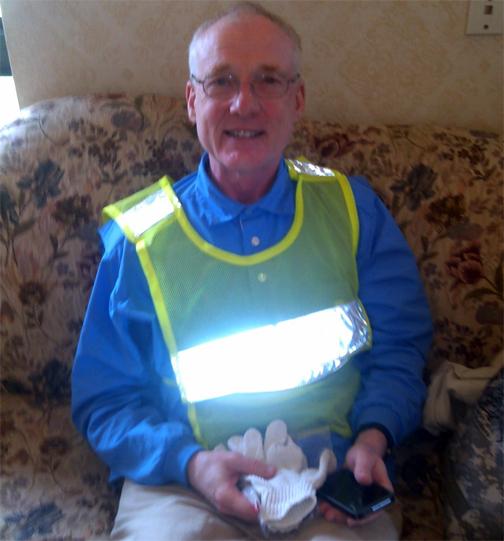 By ELYN HIRNI
(WARRENSBURG, Mo., digitalBURG) – Dave Brown is a hard man to miss.


Clad in an eye-catching fluorescent yellow-green workman's vest, he's hard not to notice. For the last 84 days, Brown has diligently made his way on foot along U.S. Routes 40 and 50 from Atlantic City, N.J., on his way to San Francisco, Calif., to raise awareness about ovarian cancer and to honor his late wife, Joan, who was taken by the disease in August 2011.
Brown met with a digitalBURG reporter this week at the Super 8 in Warrensburg. He described a movie that was his inspiration for the nearly 3,000-mile walk. "My Run" is an independent autobiography film about Terry Hitchcock who ran marathons from his home state of Minnesota to the 1996 Olympic Games in Atlanta to raise awareness for single-parent families after his wife died of cancer.
The movie struck a chord with Brown for how similar Hitchcock's story was to his own experience.
"Watching that movie, something just clicked and I said, 'Man, if he can do that…," Brown said.
Not only is Brown walking to raise awareness for cancer and to honor his wife, but his interest in the National Road (U.S. 40) and his love of walking, which he and his wife shared, also fuel his trek across the country.
The route itself was inspired by a gift Brown received from his wife in 1983, a book about a couple who took the same pictures of famous landmarks along U.S. 40 that a professor had 30 years before, demonstrating the changes. Now, 30 years later, on day 84 of his 227-day journey, the traveler made it to Warrensburg, taking pictures of those landmarks on his phone.
In the midst of all the sightseeing, Brown doesn't allow himself to forget his main goal and travels equipped with two sets business cards – one details the symptoms of ovarian cancer to educate women and their loved ones while the other contains his story and contact information.
"My nephew is a graphic artist and he did these for me," he says, referring to the cards.
A man had contacted Brown soon after losing his own wife to ovarian cancer and told Brown that "Somebody ought to go around the world and give every woman in the world a wallet card with a list of the symptoms."
"I could have kicked myself!" Brown says, reliving his initial excitement at hearing the idea. "I can't believe I hadn't thought that!"
When asked about Joan's symptoms, however, Brown's excitement fades and a faraway look enters his eyes as he speaks of his wife's pain.
"From my perspective, she was a picky eater," he said. "She was a pixie – weighed maybe 118 soaking wet and never ate a lot… But she just stopped eating. She had zero appetite and a lot of abdominal pains."
A 10-year survivor of cancer himself, Brown described his reaction to the news of his wife's condition in a single word.
"Disbelief, I guess… Both times, it just took our breath away."
"She was a trooper," he said. "She pulled us all through. She just kept analyzing everything and figuring out what needed to be done and she just kept moving on. I hope I go with a thousandth of the dignity she did."
Once known as the silent killer, ovarian cancer is one of the most difficult forms of cancer to recognize due to the subtle and common symptoms. The symptoms are bloating, pelvic or abdominal pain, trouble eating or feeling full quickly, and feeling the need to urinate urgently or often.
"If a woman has these symptoms for more than two weeks, see your doctor," Brown said. "It doesn't mean you have ovarian cancer, just make sure you don't."
Like most who have had cancer or lost a loved one to cancer, Brown said he now appreciates things more and lives in the moment, being sure to not put the important things off. The walk, however, has had a different sort of impact on the traveler.
"I just am flabbergasted at the generosity of Americans," Brown said. "It's insane. I've only had to pay for a hotel three nights and I've been on the road 84 days."
During his walk, Brown is reaching out for donations to the Ovarian Cancer Research Fund with a goal of $110,000. For more information, visit his blog at ocjoan.blogspot.com and click on the link to the OCRF website above Joan's picture.