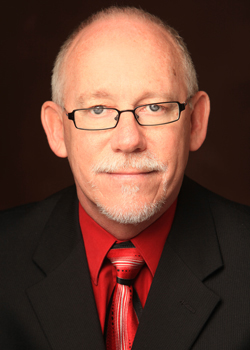 Story by ELLEN BECKER, Managing Editor—
Richard "Buzz" Herman, department chair and professor for the Department of
Theatre and Dance, will soon receive the 2013 Byler Distinguished Faculty Award.
The Byler Award is considered the most prestigious recognition for UCM faculty members. It was created to recognize faculty for their performance, evidenced by teaching, scholarly or creative activity and professional-related service.
Herman was nominated for the award by 12 of his colleagues, who wrote a letter of support calling him "one of our greatest teachers," according to a press release.
Herman said his background in theater began in high school. "I was dating a girl and she said I should try out for a play, and I wanted to be around her, so I did," he said with a laugh.
He said he always wanted to be a history teacher, and even after receiving an acting scholarship, he didn't think he'd end up doing theater.
After receiving his bachelor's degree from Marymount College in Salina, Kan., he came to UCM as a graduate student in 1978.
Later on, he began teaching high school theater classes in Kansas, and when he was 25, he got a job teaching at Marymount.
He went on to receive a Ph.D. from Texas Tech University, and in 1987, a position opened up at UCM. "I really liked Warrensburg, so I was excited for the job," he said.
"At first, I taught a little bit of everything," he said. "I started as an assistant professor, then moved up to an associate professor and in 1996, I became a full professor."
In 2001, Herman became the department chair, and in 2002 he became the first person to be awarded the title of Meridith Harmon Sauer Endowed Professor of Theatre and Dance, an award he's held for the past three years.
The award is a distinguished professorship that honors significant teaching, scholarly and or creative achievement and academic/professional excellence.
Along with teaching undergraduate and graduate theater classes for 26 years at UCM, Herman has served as producer and adviser for the BlackBox Experimental Theatre program and company manager on several occasions for the summer Central Missouri Repertory theater company, according to a press release.
He has directed more than 100 plays, and has written and acted in some as well.
In 2011, Herman decided he should take on a project. He went to fellow theater professor John Wilson with the idea of acting in a play.
"He emphasized at the time he would only want a small role and joked about his inability to memorize anything substantial," Wilson said. The two threw out many ideas of which play Herman should act in, and Wilson finally decided on the lead role of Prospero in "The Tempest."
"I don't recall how or why Prospero struck me as the perfect role for him, but I know it hit me like an epiphany," Wilson said. "I approached him with a great deal of enthusiasm and excitement not only about the play, but about his leadership in the lead role. I remember his first reaction had some doubts, but then he took the play home and about a day or two later said he was on board and excited to accept the challenge."
Herman said it was a great experience. "It gave me the opportunity to step into a role and see what the actors think and need," Herman said.
Wilson said he thinks Herman is one of the most exemplary recipients of the award that he can remember in his tenure at the university.
"Buzz has a bit of uncanny wizardry in his veins," Wilson said. "I am forever being amazed at how he can funnel the highest excellence in each faculty member to coalesce into a standard of teaching and artistic virtuosity for the entire department. That's a leadership skill that's truly a talent."
Theater professor Julie Mollenkamp said the faculty and staff of the Department of Theatre and Dance nominated Herman because they could think of no one more deserving of the honor.
"We find him to be a prescient leader and an inspired teacher who daily helps his students and faculty grow immensely as artists and scholars," Mollenkamp said. "His qualifications precisely match those of the award, including excellence in teaching, outstanding creative scholarship and laudable professional development and service. He brings tremendous vision to all he does for the our students, the department, the college and the university."
Herman said he is humbled by receiving the award. "Usually one person nominates you, but my whole staff, 12 people nominated me," he said. "I started out as a teacher for the daily satisfaction, not to win awards. It means a great deal to be honored by my peers and students."
Herman will be honored during an award reception set for 3:30 to 4:30 p.m. Thursday, April 25 in the Art Center Gallery.
He will also be recognized during morning and afternoon Spring Commencement exercises Saturday, May 11 in the Multipurpose Building.
Story continues below advertisement