HEAD TO HEAD: NASCAR or naptime?
Story by JASON STRICKLAND, Sports Editor—

Kansas Speedway weekend is here, which means tens of thousands of people will be heading to Kansas City, Kan.
I will be a part of that group. Actually, I have been going there every year since it opened in 2001, and other tracks longer than that.
All I hear is: Why do you like watching cars go around in circles over and over? NASCAR is more than that. And no it isn't all about the crashes.
Don't get me wrong, it is exciting when there is a wreck, but NASCAR involves a lot of work and a lot of strategy.
I think the main reason some people do not like NASCAR is ignorance.
They don't understand what the sport is about.
I'm sure many of you would love to watch your friends street race. NASCAR is just on a much larger scale.
There are 43 drivers in a Sprint Cup Series field, but NASCAR is a team sport.
There is a pit crew, crew chief, spotter, team owner and several other personnel members who contribute to the team effort.
During a race, communication is key among the driver, spotter, crew chief and pit crew.
The spotters tell the drivers where other cars are around them.
Crew chiefs listen to the drivers describe how the car is handling, so they can figure out what adjustments to make on the next pit stop.
Then the pit crew has to execute these plans in less than 15 seconds.
Getting into NASCAR isn't hard. You pick a diver to root for, and you go from there.
Many people at Kansas Speedway will be cheering on Clint Bowyer, since he is from Emporia, Kan.
Others will root for Columbia, Mo. native Carl Edwards. Then there are 41 other drivers in the field who fans can go for.
Plus there are Nationwide and Camping World Truck Series drivers to cheer for.
Story by ANDY LYONS, News Editor—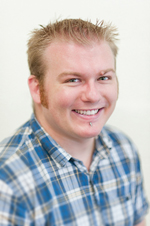 As NASCAR season hits its top gear, so does my naptime.
If I am free on Sundays, the real competition is between NASCAR and the PGA tour to see which can put me to sleep the fastest.
There is nothing fascinating about watching left turns for three or four hours.
Even if I could stay awake for an entire NASCAR race, there's simply something missing from modern racing that causes my interest to wander to the weather, or sprinting outside when I hear a B-2 passing by, or watching butterflies flutter, or anything really, that isn't racing.
The points system in the Sprint Cup is beyond my realm of understanding.
There are no blatant rivalries such as the old Celtics vs. Lakers of NBA lore.
There are sometimes crashes, but they can end tragically for the drivers and the fans so I don't root for crashes like I do for a fight in the NHL.
Sure, there are sometimes close finishes at the end of a race.
But really, who wants to watch cars go in circles for up to four hours for the best part of the race?
I know the Daytona 500 is really big to NASCAR fans, but why not make it the Daytona 150 to appeal to people with shorter attention spans.
More still, after the race there are sometimes brawls between pit crews or choice words between drivers but I understand that even less.
"Oh you cut me off you jerk!" says driver A. "We're driving cars in a race, of course I cut you off…" responds driver B.
I caught Jeff Gordon's big speech about respecting safety, but when you're driving 200 mph for 500 miles trying to win a race, other drivers are going to get cut off.
I'm not completely writing off NASCAR, because I would like to go to a race sometime.
But outside of the live event I don't think I could ever sit through an entire race.
Maybe because I'm tired, but probably because it's boring.