T&F transitions to outdoor season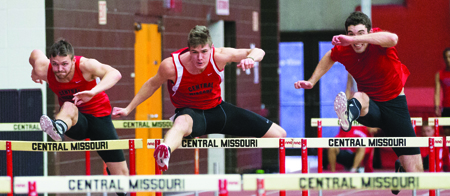 Story by Alex Agueros, for The Muleskinner—
Outdoor track began its season last weekend at the Texas State Bobcat Invite, Washington University Invite and Pitt State Open. This comes after another successful indoor season, which saw a conference championship, and two national champions.
"We were definitely pleased with our indoor season," said co-head coach Kirk Pedersen. "We knew the men's fifth conference title in a row would be a challenge, but we got the job done."
The women's team finished third, while junior Erin Alewine and senior Brent Vogel earned national titles in their events.
"We definitely expected a national title when we went there," Vogel said. "What was surprising was the final score of the heptathlon."
During his title run, Vogel broke the NCAA-II record for heptathlon score. The two runner-ups also broke the previous record.
"Our expectations were to at least challenge the record," co-head coach Kip Janvrin said. "The athletes behind him helped him stay focused. His record was a pleasant surprise, but not unexpected."
With the indoor season behind them, Central wants to make a smooth transition to the outdoor season.
"After the indoor season, we kind of scale back and do some basic training," Pedersen said. "We are hoping to get our team ready to compete into the first week of May."
The recent weather has made it harder for Central athletes to simply practice outdoors.
"For most of the kids, we just need to get outside," Janvrin said. "Our throwers have been getting out all winter, but dealing with the climate is tough."
The goals remain the same for track and field, indoor and outdoor alike.
"We want to win conference," Vogel said. "It's going to be harder, with more competition, but that is the goal."
Track and field travels to Emporia, Kan., Saturday to compete in the Emporia State Relays. The competition is scheduled to begin at 10:30 a.m.