Movie Review: "A Good Day to Die Hard"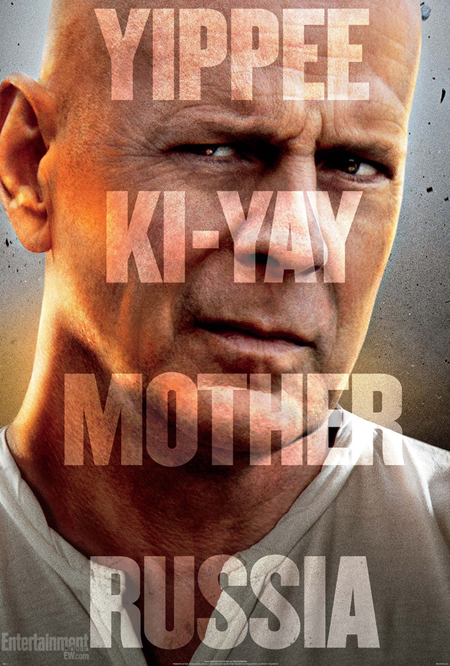 Story by Joshua Leonard, for The Muleskinner—
"A Good Day to Die Hard," the fifth installment of the "Die Hard" franchise, was a decent action movie, but not a good "Die Hard" movie.
In this film, John McClane (Bruce Willis) takes a 'vacation' to Moscow, Russia, to visit his son, Jack McClane, aka John McClane Jr. (Jai Courtney).
In Russia, John finds out his son, whom has not been mentioned since the first "Die Hard" movie, is a CIA agent trying to get a scientist named Komarov out of Moscow because he has information needed to take down a Russian crime lord.
The film has really good action sequences with lots of explosions, car wrecks, more explosions and little to no blood or gore whatsoever.
Besides a few harsh curse words, I found myself having a hard time figuring out why the film was rated R.
The chemistry between John and Jack was just about non-existent.
The only thing they could relate to was their internal excitement for taking out the bad guys.
The camera work in the film was bizarre and very amateur, at best. For half of the movie, the camera would zoom in and out quickly for little to no reason, trying to give the movie a gritty "Cloverfield" look to it. The key word is "trying."
The other half of the movie was shot really well and felt like a movie.
Besides the camera work and lack of chemistry between the McClanes, the famous "Die Hard" quote was delivered lack-luster at best. The, "yippee ki-yay (fill in the blank)" is usually a moment in the "Die Hard" films every fan looks forward to, and it was just thrown in there to be in there.
The twist ending to reveal the main villain was not really a surprise, or a twist.
Overall, "A Good Day to Die Hard" was a big letdown; as I am a huge fan of the franchise.
There were moments I enjoyed, but overall it was not a very good "Die Hard" film.
I should have known I was going to be disappointed with John Moore directing the film, who directed another letdown, "Max Payne."
I would give "A Good Day to Die Hard" a solid five out of 10 for it was a decent action movie, but a terrible "Die Hard" film.