A Palestinian perspective on education
Story by RANA ZAKARNA, for The Muleskinner—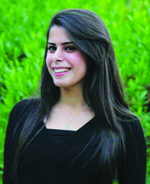 Education is a human's weapon in this life.
In the first stages of their lives, children are forced by their parents to go to school. After growing up they become adults who seek to get more education and strengthen their position in society.
The education in Palestine is considered good because it is an occupied country.
The occupation creates some problems that prevent Palestinians from improving their educational system.
They spend a long time at the Israeli checkpoints in order to get to their schools, which makes things more complicated for Palestinians.
There is a decent amount of elementary, middle and high schools, as well as undergraduate and graduate schools.
These schools are well-equipped with intelligent professors, however, they still need more improvements to be as good as most universities in the Arab world.
I am a Palestinian student who has studied at Birzeit University, which is considered the best university in Palestine.
It has great experienced professors in different academic fields.
The university has some well-organized facilities that stand as a reason behind all the success of the university.
On the other hand, UCM is my second undergraduate environment, which I have been attending for six months now.
Although I have not spent a long period of time here, this beautiful campus and friendly environment truly got my heart.
From the way buildings are structured, the well-equipped classes, the great facilities such as the library and the Union, to the strategies which UCM's professors follow in lighting the way for students to get the most benefits from courses.
I definitely can say that UCM gave me the reason why I should focus more on my education, study hard and enjoy studying at the same time.
Dr. Mahmoud Yousef is a Palestinian professor who works at UCM in the department of mathematics and computer science.
He studied for only two months at Birzeit University. After that he had to transfer to Al Yarmouk University in Jordan because the situation in Palestine got complicated due to the Palestinian-Israeli conflict.
After finishing his bachelor's degree, Yousef decided to get his master's and Ph.D. degrees in the United States because he was sure that the quality of education in the U.S. is worthy enough to travel alone to another part of the world, and face many difficulties.
After getting his master's and Ph.D. degrees at American universities and working as a teacher at an American university, Yousef said he recognizes that a huge part of his dreams became true.
That is why there is no way to regret leaving his homeland and family for his educational needs.
He is getting a great experience that makes him proud of himself and happy that he had this chance to study and work at American universities.
UCM resembles the most comfortable environment which Yousef has ever lived in.
His relationships with the other professors, in his department or other departments, are some of the main reasons that Yousef loves UCM.
"After I got my master's degrees, I used to work at an American university," Yousef said. "But UCM is the best option I could ever have. UCM is basically designed to let students and professors enjoy their education process. It is such a quiet and safe place which absolutely makes people love to attend the school here."
Some students are attending UCM right now but they want to attend a different school somewhere other than UCM.
They do not recognize the advantages UCM gives them. They are going to lose these advantages if they choose another school.