Featured artist puts a twist on old techniques

By CLIFF ADAMS
(WARRENSBURG, Mo., digitalBURG) – Carolyn A. Hull is set to be the March featured artist at the Old Drum Gallery & Trading Company in downtown Warrensburg.
Her show "Impressions: Styrofoam and Monoprints" will consist of new artwork, which are relief prints made using plastic foam and monoprints. The gallery is located at the corner of Holden and Culton streets.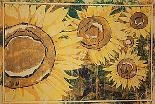 To create a relief print artists carve the image into a wood or linoleum block. This block is then typically inked and transferred to paper. What makes Hull's prints so unique is that she uses acrylic paints instead of ink. This allows her to achieve a texture that ink doesn't produce.
Hull discovered her passion for printmaking in 2004 while attending William Jewell College in Liberty, Mo. That is where Hull learned the processes of printmaking. In 2006, Hull graduated from William Jewell College with an art degree and has since pursued printmaking full time.
Her show opens during the downtown Art Walk event from 6-9 p.m. March 1. The Art Walk is an event where patrons can view works from numerous artists at various businesses.
Hull has been accepted into the Now Showing Program in Kansas City through ArtsKC, which supplies artists with offices to hang their artwork. Hull's relief prints are showing at the Kansas City Convention and Visitors Association through April 18.
Also on display will be a coffee table book that Hull created over the summer.
To learn about the ArtsKC program, visit www.artskc.org.
For more information on Hull, visit www.carolynahullstudio.com.