"SNL" director of photography discusses technology changes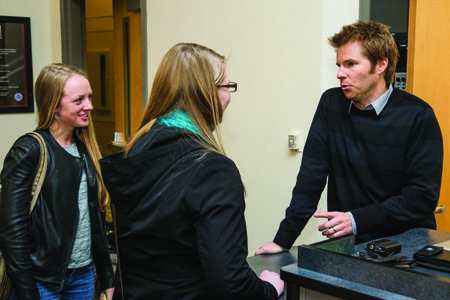 Story by Nicole Cooke, Copy Editor—
The world of "Saturday Night Live" came to UCM Monday when director of photography Alex Buono spoke to students about the constant changes in camera technology.
Buono spoke during two different sessions on Monday in Ward Edwards 2000. Almost every seat was filled during the first session and there was another large turnout for part two of the presentation.
Buono's first session focused on DSLR cameras, while the second session focused on cine style shooting. He spoke about the wide variety of cameras available to photographers and videographers today, while also going into detail about the various features on new cameras.
As the director of photography for "SNL," Buono films segments like short films and commercial parodies that are seen on the popular sketch show each week. He showed several of those segments, such as "Amazon.com Mother's Day," "Best Friend Booty Shorts" and 'Flaritin," as examples for the workflow that goes on for every shoot.
Buono showed each commercial and then showed the workflow that was used for that particular camera and commercial, such as when the video is sent to the colorist and editor, how the video is stored, and what type of format is used for the final video that is broadcast on the show.
There were a wide variety of students in the audience.
Some were photography majors, while others were majoring in digital media production. Buono took time to answer questions after the presentation, and many involved the combination of both still photography and video skills.
"There were a lot of still photographers (in the audience) and I hope I've demystified video, which I think can be intimidating," he said. "They've got a camera with this red button on it and they're not quite sure if they should push it or not. I hope I've demystified how complicated, or not complicated, it is when you push that red button to record video."
Although working on "SNL" can make for a hectic schedule, Buono only works on the show about two days a week. He said he typically shoots on Thursday or Friday and is usually finished by 6 p.m. Friday. The video then goes to the editors who stay up until about 2 a.m. for post-production. The video is then finished on Saturday, just a few hours before the show airs live.
Buono flies to New York City every week from his home in Los Angeles to work on the show. When he's not working at "SNL," he's working on other projects, such as writing, producing and shooting his documentary, "Bigger Stronger Faster," which premiered in competition at the Sundance Film Festival in 2008. He has also worked on the camera crews for "Twister," "Conspiracy Theory" and "Armageddon" after he graduated from the University of Southern California.
He also had the opportunity to be on a committee of videographers who gave input to Canon to help design its newest camera, the EOS C300.  He and the other videographers gave suggestions of what they would like to see on a new camera, and then tested the camera at various stages of development.
Even with his busy schedule, the 10-year "SNL" veteran still makes time to work with students whenever he gets the chance.
"I have a crazy schedule so it'd be easy to not do this, but I do like working with students," he said. "I remember very well being a film student and the people that helped me a lot and gave me advice. I like to try to do the same."
Sponsored by Canon's Explorers of Light program, Buono does speaking engagements about once a month at universities and other events to help share the newest technology Canon has to offer. The group has more than 50 influential photographers and cinematographers in the world who travel the country talking to students.
Since UCM's photography department has a connection with Canon, photography instructor and lab manager Coleen Fritz requested to have Buono speak at UCM. She said he was her first choice from Explorers of Light and that she was lucky to get him to UCM.
UCM's connection with Canon allowed the department to bring Buono to campus, as well as the opportunity to partner with the company on an upcoming printer project, which will include a donation from Canon of about $30,000.
The photography department has had many speakers come to campus, such as portrait and commercial photographers, a digital editor, a studio manager, and an art director.
There are several upcoming speakers that Fritz has already booked, including a commercial photographer from Kansas City that travels the country, and a portrait photographer, who will be at UCM in April.
Fritz said that she was pleased with the turnout for the presentation. She said she thought that the students were excited for the opportunity to meet someone from "SNL," as well as to gain some professional knowledge.
"We like to make these opportunities available to students to introduce them to the newest technology and to get different perspectives from people in the industry," Fritz said. "Speakers like this help guide them on their career paths and gives them the chance to talk to the professionals, which could turn into internships."
During his presentation, Buono gave a lot of advice on photo and video technology, but he also had some advice for aspiring photographers.
"The most important thing for anyone in film or television as an artist or creative person is to figure out what's unique about your own perspective," he said. "Do you have a unique voice?
"Don't try to copy me or your favorite filmmakers. Figure out who you are as an artist or creative person. That's what people are interested in. If you can establish that and express that, then you'll be a lot better off than someone that says they can copy a technique."
For more information about upcoming photography speakers, contact Fritz at [email protected] For more information about Buono, follow him on Twitter @AlexBuono.