Spring Career Expo brings hundreds of job opportunities to students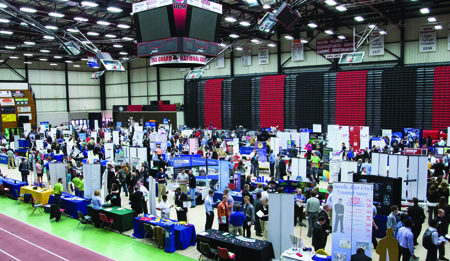 Story by COURTNEY MUNS, for The Muleskinner—
UCM's Multi-Purpose building was buzzing with students, alumni and faculty as UCM held its semi-annual Spring Career Expo.
133 employers were in attendance, including Starbucks, Commerce Bank and Worlds of Fun, who were looking for students and alumni to recruit for full time and internship positions.
Kiera Mann, Career Development Coordinator, ran the event for the second time.
"Our mission is to educate and to connect students and employers so that students have an idea about what to expect when they graduate or so that students have a plan for when they graduate," Mann said.
The Office of Career Services holds two career expos a year, one in the spring and one in the fall, which is currently being planned to occur in October.
Career Services hosts a weeklong event, beginning with a resume building event on Monday, the Career Expo mid-week, and an interview day to end the week.
"Employers will ask about 15 students back to interview them for an internship or a full time position with their company," Mann said.
Jodi Everett, the District Manager for the Starbucks in Kansas City, said that this is their first year back to the UCM Career Expo in a few years, and that they are looking to hire for a salary management position in areas such as Kansas City and St. Louis.
"We are impressed with the engagement of students and all of their great questions," Everett said.
Mann said that there are about 6,100 employers in the career services database that are invited to attend via email, and that with last spring's employer attendance being at 110, this year's employer attendance of 133 was a successful turn out.
Amber Goreham, Career Services Interim Director, explained how the employers for the Career Expo are chosen.
"Employers seek us out through our Mules4Hire service, and once they connect with us, we will set them up on an account in Mules4Hire, and they will be emailed with information about these events," Goreham said.
Goreham also explained that the summer time is when Career Services really does their part to seek out employers.
"We really pay attention to the news in Kansas City, or surrounding areas, and we also get tips from faculty at UCM about certain employers that we could potentially have at the expo," Goreham said.
Along with the Career Expo, there is a Teacher Placement Day that will take place in March.
This event is geared toward the education major students, helping them become more familiar with teaching positions and to potentially find employment.
There is also a Nursing Day that will occur this spring at the Summit Center.  For more information, students can stop by the office of Career Services in Union 302.