UCM Dedicates Russell Coleman Rehearsal Hall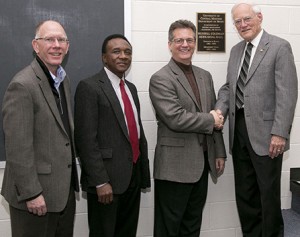 (WARRENSBURG, Mo.) – The rehearsal hall inside the University of Central Missouri's Utt Building has a new name, honoring a longtime band director, hall of fame member and community band founder.
The Russell Coleman Rehearsal Hall was dedicated on Saturday, Jan. 12, following the UCM Alumni Band gathering and concert. The event brought many of Coleman's former students together to participate in the dedication, including a former student who traveled from Wyoming to participate.
Steven Moore, chair of the UCM Department of Music, introduced Gersham Nelson, dean of the UCM College of Art, Humanities, and Social Sciences; UCM President Charles Ambrose; and Dale Carder, Warrensburg, who served as UCM Marching Mules drum major for four years under the direction of Coleman. Each expressed their appreciation for the dedication of Coleman and his wife, Alice, to the university's music program and the community.
"This really isn't about me," Coleman said. "It recognizes what my students and I were able to achieve in this room. This recognition is the result of the efforts and successes of the students and faculty I had the pleasure to work with."
Coleman, a resident of Warrensburg, was a member of the university's music faculty from 1964 until his retirement in 1996. During that time he served as director of bands, including the Marching Mules and the Concert Band, and provided private instruction.
During Coleman's tenure, the UCM bands were invited to perform at a variety of regional and national conferences, establishing the Central Concert Band as a major ensemble.
Coleman and the Department of Music also established a close relationship with Frank Erickson and Claude T. Smith, nationally known composers of music for concert band. The UCM Concert Band recorded many of their compositions for distribution by publishing companies.
Hundreds of high school and college band directors began their career under the direction of Coleman.
While at UCM, Coleman became one of only three members from Missouri elected to the prestigious American Bandmasters Association.
Following his retirement, he was elected to the Missouri Bandmasters Hall of Fame and the Missouri Music Educators Association Hall of Fame.
Coleman also has been active in the Warrensburg community as the founding conductor of the Warrensburg Community Band, which has provided a summer concert series for the Warrensburg community since it was founded in 1985.