Legend Returns to MuleNation
Kim Anderson Takes on Advising Role
Former coach of University of Central Missouri Mules Basketball Kim Anderson did return to the University of Central Missouri as a special advisor to President Roger Best on the national state of intercollegiate athletics on Sept. 16. Anderson coached the Mules from 2002 until 2014, leading the team to seven NCAA appearances, winning six MIAA regular season championships, four MIAA tournament championships, three NCAA regional championships and a national championship during the 2013/2014 season. Anderson explained that the Warrensburg area felt like home to him. This could be because he will be working alongside both his sister and his son. His son, Ryan Anderson, who is currently the Media Relations Manager for UCM athletics, shared how he felt about his father's return.
"Honestly, it's fantastic," said Ryan Anderson. "Having my dad back at Central Missouri. He did so many great things for this university. 12 years, you know, obviously won a national title. It's just good to have him back because he wasn't just a great basketball coach, but he's such a great ambassador for this university, as well as really the region in general."
With both his playing and coaching experience, Anderson will surely have an impact on the team that he once coached. Mules Basketball Head Coach Doug Karleskint spoke about how he thinks Kim Anderson will impact his team.
"With a guy like that on campus, I think just with the resources and the knowledge and that background that he has in college basketball, we would miss it if we didn't have it," said Karleskint. "I'm sure that I'll ask for some input to see what he sees."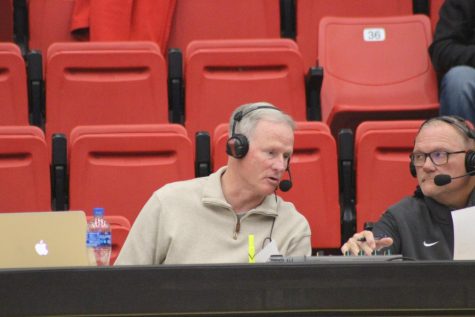 Aside from being an advisor to President Roger Best, Anderson will also be providing color commentary, a form of commentary for broadcasting sports, on UCM's basketball broadcasts. When talking about how he feels about his return to UCM, Anderson seemed thankful and pleased with the opportunity.
"This school has been great to me," said Anderson. "And it's been great to my family. This kind of fits what I wanted to do, something that's not a full-time deal."
After graduating from Smith-Cotton High School in Sedalia, Anderson played at the University of Missouri from 1973 until 1977 when he was drafted into the National Basketball Association by the Portland Trail Blazers. Anderson played for the Trail Blazers, as well as in an Italian league and a French league before beginning his coaching career. Anderson described his time playing professional basketball as fascinating.
"I mean it was great," Anderson said. "You know, I finished playing in college, I went through the summer and then that next fall I found myself playing in Italy."
After retiring from professional basketball, Anderson began his coaching career as a graduate assistant at the University of Missouri, which led to a full time position at Baylor University. Anderson eventually returned to the M.U. this time as a full time assistant from 1991 until 1999 when he took a job as the assistant commissioner of the Big 12 Conference. Following this job, Anderson was named Head Coach of the Mules basketball team in 2002.
"Jerry Hughes gave me the opportunity to be the head coach and I was here for 12 years," Anderson said. "Then we won the national championship in 2014 and the next thing I knew I was the head coach at the University of Missouri."
Following his time at M.U., Anderson continued to coach for Pittsburg State University as their men's basketball Head Coach until 2021.