Meet the Quarterback
Cedric Case Lead Mules Football Team
  Sophomore and UCM Football Quarterback Cedric Case believes he is ready to lead his team.
  He has been playing football for 14 years, beginning when he was seven years old. Case played in high school and then he decided to play in college.
  He said he pursued playing college football because of both of his parents' experiences in college athletics. His mom played basketball and his dad played football. Case transferred to the University of Central Missouri after playing at Texas State. He said one of the reasons he chose UCM was because of the coaching staff.
  "I'm really confident because people around me are confident in me. I feel like I wouldn't be in this position if my coaches and teammates didn't believe in me," Case said. "I can just go out there and be myself".
  Assistant Football Coach, Lucas Lueders said he has been really impressed with Case. Lueders believes Case is a driven champion and a team leader because he is also prepared, focused, and never satisfied. He added, Case is a team leader because he commands his teammates, and he is liked by others. 
  Lueders said part of leading a team in the NCAA, you look for someone who makes moments in the game. Lueders describes him as a champion because of his overall competitiveness, and how he approaches things. He also said that Case has high expectations.
  Off the field, Lueders and Case like talking to each other about sports topics, including who is the greatest player, high school sports in Nebraska and the Los Angeles Rams.
  Lueders said he is very confident in Case's Cedric's ability to lead the team.
  "Once we get ready for the game and the offense takes the field, I have zero to little doubt whatsoever that Cedric could not get the job done, and part of it is how you approach it on a daily basis. It creates a lot of confidence in me and in his teammates,'' Lueders said.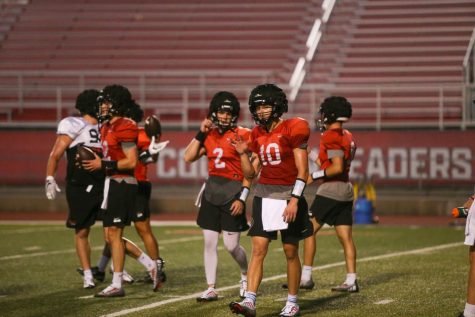 Lueders said Case has a great football IQ and he is a highly intelligent person. He also said that Case challenges himself to be able to teach others. He attracts other people to be around him. He is close with his teammates and said that this was the closest team he's ever been a part of. 
  Before the game, Case likes to visualize being out on the field and relaxes. He listens to classic artists like Frank Sinatra. He doesn't feel any outside pressure from fans or coaches. He just tries to go and execute.
  In his free time, he likes to watch basketball including the Golden State Warriors, movies, play video games and hang out with his girlfriend. He also likes to watch football. His favorite NFL team is the Los Angeles Rams.
  The way he stays fit is by eating right and sleeping about eight hours a night. Case's dad is a nutritionist and has helped structure his diet. He believes UCM's strengths and the conditioning program are also an asset.
  "I balance work, school and sports by having a great support system. My family is huge for me back home," Case said. "I'm always on the phone with Mom and Dad and they always give me great advice."
  Freshman UCM Women's Basketball forward Graycen Holden said she and Case hang out with friends when they have free time. While hanging out, she said she appreciates his focus on knowing what needs to be done. Holden believes Case is a good leader because he leads others and he also likes to help others.