City Manager Considers Waste Study
Other Stories by Emma Fischer
More stories from Emma Fischer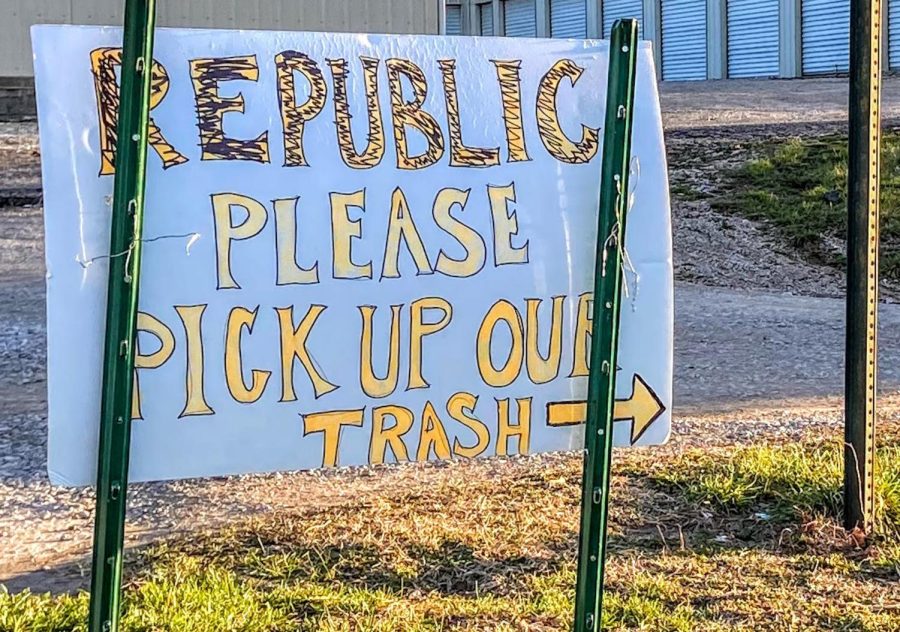 Grease-stained pizza boxes, half-empty bottles of soda and billowing black garbage bags sit in overflowing dumpsters tucked between campus buildings and hidden in Warrensburg alleys, if it's not piling up in people's yards.
  In the summer of 2021, national trash company Republic Services began operating as Warrensburg area's main trash provider after it bought local company Heartland Waste. Since then, residents have experienced a change in service and many have taken to posting on Facebook, putting up signs and calling the City of Warrensburg to express their frustrations with the company's trash service. 
    "The trash service is exactly how it sounds — trash," longtime Warrensburg resident and freshman theatre design and technology major, Hollie Neumann, said.
  One of Republic's mechanics, True Devine, said there have been many reasons as to why Republic's service is subpar. Like many companies across the country, Republic has faced labor shortages, Devine said. 
  "We couldn't even staff enough people to go pick up all the trash," Devine said. "Sometimes it would take three days to pick up one day's route."
  In addition to the shortage of workers, Republic Services has also faced other challenges. Because Heartland Waste was local, many of the drivers they employed were familiar with the Warrensburg area. When Republic took over, they had to adjust to Heartland Waste's old system, which relied heavily on local drivers' knowledge. Many of Heartland's drivers left the company after it changed management.
  City Manager Danielle Dulin did a Q&A with Republic Services in the summer of 2021 after the company had taken over Heartland. She streamed the conversation on Facebook for Warrensburg residents.
  "We know we've got a challenge here in Warrensburg with our solid waste," Dulin said. 
  Dulin first sat down with Republic Services employees in September 2021, and spoke with them in a posted video about their new service to Warrensburg residents. As the city manager, Dulin has been on the receiving end of complaints and has worked with Republic Services to ensure citizen satisfaction.
  Dulin said that Republic Services has shrunk their area of service to focus on solving the issues in the Warrensburg area before focusing on more rural customers. Additionally, starting in January 2022, Republic Services has brought in more management staff from other Missouri areas to better address the specific issues Warrensburg is facing.
  "We've seen a lot of improvement, just even in the last probably six or eight weeks," Dulin said.
  Dulin said one of the frustrating parts of working with a national company is that when she would call, her complaints would be dismissed because on Republic's records, trash routes had been picked up, even though she would be on the phone looking at the trash still on the curb.
  Other residents faced similar problems and were unable to get through to the local company. 
  "Now that we've got the new manager in place, we've got our new representative here in town, I do think that those things are getting taken care of," Dulin said. "I feel like we're being seen — feel like we're being heard."
  Dulin also said the City of Warrensburg is planning on conducting a solid waste study at the end of fiscal year 2022 because of recent issues. This would look at how Warrensburg residents produce trash — how much of it, what it is and what can be done to get rid of it. 
  "One of the things that's really interesting about Warrensburg [is that] Republic has come in, and they're shocked at how much trash Warrensburg residents produce," Dulin said.
  The solid waste study will outline a plan of action for the community to address the amount of waste that Warrensburg is producing. Dulin and the city have discussed different methods of trash-collecting, whether that is through the city's own funds, contracting as a community with Republic or leaving the system as it is now, where individual property owners are responsible for contacting a trash company of their choosing and getting rid of their own trash.
  The solid waste study will also examine what type of trash is being produced and will show what sort of facility is necessary, such as a recycling center, and how a recycling system could be effectively implemented within the community.
   Dulin said she hopes the study will be complete by the end of 2022 or within the first quarter of fiscal year 2023.
Leave a Comment
About the Contributor
Emma Fischer, News Editor
Emma Fischer is a sophomore currently pursuing her bachelor's degree in actuarial science and a minor in art. As a news editor, she ensures campus events...