Wrestling Team gets Permanent Practice Space in Multipurpose Building
  The University of Central Missouri Board of Governors approved the construction of the new Roger Denker Wrestling Facility at the UCM Multipurpose Building, it was announced Wednesday, March 30. The UCM wrestling team is finally going to get a place to practice.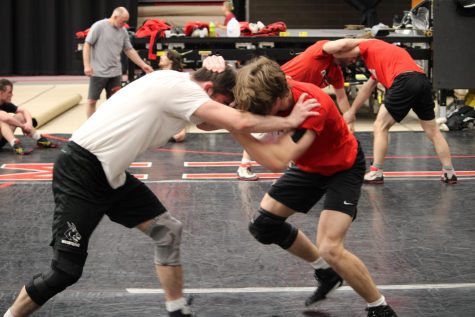 The new practice space will be in the Multipurpose Building, where the pool is. The existing indoor swimming pool will be filled with gravel, and a new slab will be poured on top.
  Interim head coach John Feeney said he is very excited about the addition of a practice space. Feeney said the new space is going to make it easier for the wrestlers to come in at different times of the day without the additional challenges of making reservations.
  "If the guys had conflicts, they would basically miss a day of practice because we only had a certain amount of time to use the facilities," Feeney said. "It's going to add a lot of flexibility for the guys to do one-on-one matches."
  Feeney said it's a long time coming for the wrestling team to have their own practice space, and the wrestling room helps with recruitment because prospective wrestlers are able to see where they would be spending most of their practice time.  
  "We are extremely excited about the Board of Governors' action to approve a new wrestling facility," Vice President for Intercollegiate Athletics Jerry Hughes said. "The facility will provide a permanent home for the UCM wrestling program and will help with the recruitment of excellent young men to compete at a high level for Mules wrestling."
  The practice space will be two full mats, which means the team won't have to roll up the mats after practice. The team also plans to get some equipment for the room including exercise bikes, medicine balls, ropes and pull-up bars.
  The renovation is possible because of substantial gifts from alumni, specifically Dan Power and Gary Ervin, who competed under Coach Roger Denker's instruction. The facility will be in memory of Denker, honoring the former coach for his leadership in transforming the lives of UCM wrestlers.
  The current team is excited about this new change. Junior Austin Morgan said not having a designated practice space has been challenging. He said he likes the fact that the practice space is right next to the coaches' office. 
  "This new space is going to make practice better in a lot of ways," Morgan said. "For example, it's going to be our own space, so we don't have to roll up the mats."
  The new space will also have a viewing point on the second floor. This will allow people to watch the wrestling team practice, which pushes them to consistently improve.
  Sophomore wrestler John Ridle is especially excited because he doesn't have to layer up for practice in Lovinger.
  "I won't have to wear three t-shirts, a long sleeve and a sweatshirt," Ridle said. "It's so cold in Lovinger, and we are in a sport where we need to be losing weight on a daily basis. I might only have to wear long sleeves and sweatpants." 
  Ridle also said it will be nice to have their own space and not have to be distracted by other teams practicing.
  The board accepted a contract of $1,054,000 with E&K Construction out of Grandview, Missouri, to provide labor, materials and provisions necessary to construct the new wrestling room. Alongside the area for the wrestling mat, the renovation will include the conversion of an existing storage room into a new coaches' office and rubber athletic flooring will be installed to cover the center floor.
Leave a Comment
About the Contributor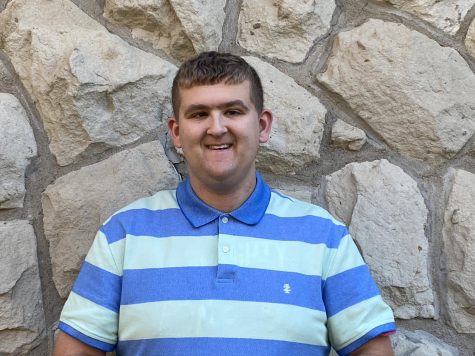 Collin Sumler, Reporter
Collin Sumler is a junior and his major is digital media production with an emphasis in sports broadcasting. He is an Eagle Scout and a hard worker. He...