Graduate Student Research Shows Benefits of Intramural Participation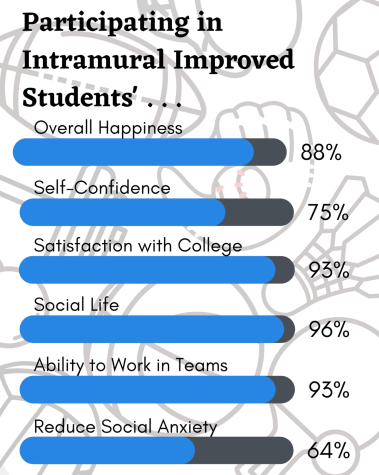 There is a wide selection of intramural sports at the University of Central Missouri, which offer recreational opportunities for students in a fun and safe environment, ranging from flag football to disc golf. Some may wonder why students choose to participate in these activities, but through research conducted this semester, that question has been answered. Students choose to participate because of the social benefits, physical outcomes, emotional stability and cognitive development that surrounds intramural participation. 
   These reasons revolve around participating in any offered intramural at the university level. I paired up with sport management assistant professor and program coordinator, Kyungun "Ryan" Kim, to research the social benefit and impact that intramural sports have on the UCM participants. 
  "Intramural sport is the core piece of college athletics and college students," Kim said.   
  A survey was sent out to 808 fall 2021 intramural participants, studying the difference between male and female participation and their social outcome and benefit. This survey consisted of 14 questions and addressed eight social outcomes, including overall satisfaction, social involvement, social restriction, relative happiness, reduction of social anxiety, confidence, collaboration and social life existence. The results came back with 210 participants. Within the results, there was a statistical difference between male and female social outcomes in regards to participating in multiple sports. Females are seeing a massive social benefit from participating in intramurals over males. 
  While females participate in intramurals because they want to achieve increased collaboration, confidence, relative happiness and decreased stress level, males simply play to play and compete. 
  Sophomore secondary education major Adara Chilcoat plays and officiates intramural sports. She participates in indoor and sand volleyball with her team, The Finale.
  "Participating in intramurals has taken so much stress off my shoulders," Chilcoat said. "It has allowed me to be physically active and socialize with other students that I would have never had the opportunity to meet if I didn't play intramurals."
  Kim said he thinks this information would be important for students who are on the fence about participating in intramural sports. 
  "Not many students are exposed to these outcomes and how their participation in intramurals impact their social life in different ways," Kim said. 
  The research shows that playing intramural sports is more than just a touchdown and homerun. These programs contribute to the participants' wellbeing and social lives in many ways.
Leave a Comment
About the Contributors
Meah Copeland, Sports Editor
Meah Copeland is a senior Digital Media Production Major. Her emphasis is in Digital Journalism and Sports Reporting and Broadcast. Meah started writing...