Month of the Military Child Brings First Lady Biden to Knob Noster
  On April 13, First Lady Jill Biden visited Knob Noster High School, along with Secretary of Education Miguel Cardona, to honor military families and children, as April has been declared the month of the military child. Children from elementary to high school in the Knob Noster school district were present as Biden spoke of the importance of military children. 
  Knob Noster has a large percentage of military kids, as Whiteman Air Force Base is very close. Children of servicemen and women who are stationed at Whiteman tend to enroll in the Knob Noster school district. 
  After touring the air force base and Whiteman Elementary, Biden took to the stage in the Knob Noster High School gym to address students and commend them for their largely unnoticed sacrifice as military children.
  The First Lady shared her experiences as the daughter of a World War II soldier and seeing her grandchildren grow up with their father, her son Beau, deployed in the Iraq War.
  "I understand a little of what military families go through," Biden said. "You face unique challenges — and your stories don't always get told. That's why I'm here today — to shine a light on what it means to be a military kid." 
  Biden emphasized how strong military children have to be in the face of having a parent or other family member deployed at any moment, and how moving frequently makes it hard to develop and maintain friendships.
  "I've heard about what it's like to stay up late, worrying about the safety of someone you love most in the world, or what it's like to leave behind best friends and wonder if you'll be able to keep in touch," Biden said.
  Biden also mentioned that despite the hardships, there are positive experiences for military children. 
   "I've also heard about the great parts of this journey — the chance to see different parts of our country or meet people from around the world … how you learn to adapt to any situation and realize that you're capable of more than you thought," Biden said.
  In addition to focusing on the children, Biden took a moment to address military parents in the crowd and assure them that their sacrifice is well worth it.
  "Parents, I know there have been moments when you've asked yourself if you made the right choice for your child during your service, but I hope you see how the path you've chosen has made these students the incredible people they have become — people who are ready for whatever the world has in store for them," Biden said. "Isn't that what all parents want for our children?"
  Biden spoke about Joining Forces, a government program she helped start ten years ago while her husband, Joe Biden, served as vice president. According to the White House's description, the program focuses on, "the needs of military families in the areas of: Employment and Entrepreneurship; Military Child Education; and Health and Well-Being." This includes helping military spouses get flexible jobs, providing mental health services for military children and helping children experience steady educational growth, even though they move around the country. In such strong military communities like Knob Noster, programs like Joining Forces are highly valuable to military families. 
  Closing her speech, Biden emphasized how important military families and children are to communities, whether they stay in one for a long time or travel around frequently. 
  "The lives of military students may not be defined by the edges of a hometown," Biden said. "Our world is your hometown, and as you serve and represent our nation, you are shaping it, every day."
Leave a Comment
About the Contributors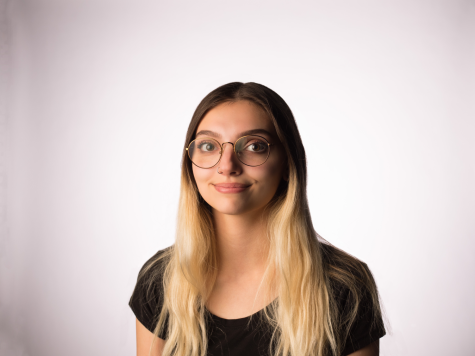 Anna Furney, Copy Editor
Anna Furney is a senior majoring in history and minoring in political science. She has an Associate in Arts degree from Metropolitan Community College...
Emma Fischer, News Editor
Emma Fischer is a sophomore currently pursuing her bachelor's degree in actuarial science and a minor in art. As a news editor, she ensures campus events...