Despite COVID-19 and Ukraine Invasion, UCM Students are Inspired While Studying Abroad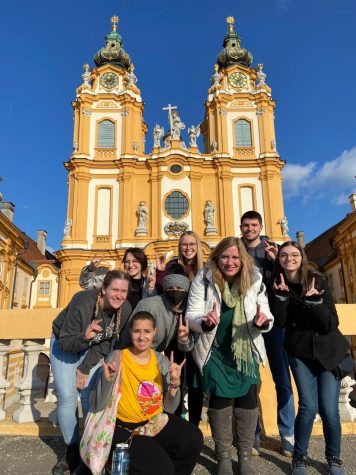 After being delayed for two years, the first UCM study abroad program since COVID-19 took place over spring break and brought students to Austria and the Czech Republic. While concerned about COVID-19 and the conflict in Ukraine, students were still able to take away valuable experiences.
  While in Austria, the group stayed in Vienna, where they visited museums, cathedrals and historical sites. They toured the Schönbrunn Palace, where the Habsburg dynasty of the Holy Roman Empire ruled for 600 years and rode the Riesenrad, the world's oldest ferris wheel. The students walked through multiple cathedrals, ranging from gothic to baroque style, and they toured the catacombs under St. Stephen's Cathedral, where the bones of thousands of people who died from the bubonic plague are stacked in rooms from floor to ceiling.
  In the Czech Republic, the group stayed in Prague and learned about its historical connection to Judaism. The Prague Jewish Museum provided students a look at Jewish oppression from the medieval times to around World War II. At the Jewish museum, students were able to walk through synagogues and the Old Jewish Cemetery, where gravestones are piled upon each other because of a lack of burial space. In addition, the group stayed at the Hotel Medvidku, which is one of Europe's oldest operating breweries, built in 1466.
  Students who participated in the trip expressed that they felt safe during their travels, despite COVID-19.
  Mary Sodemann, senior criminal justice major, said she thought the trip was safe because the students were required to take precautions, such as testing, wearing masks and being vaccinated.
  "I think there are always going to be risks with COVID, but we worked to mitigate those risks and had a safe trip," Sodemann said. "I think a big part of the safety on this trip came from understanding the COVID risks and doing our best to prepare for them."
    German professor Kristy Boney was the faculty leader for the trip. Boney said that she and the school were diligent in keeping up-to-date with COVID-related travel regulations.
  "Long before I even began to finalize plans, I was in discussion with the Global Education Center about pandemic measures and preparing for all kinds of outcomes," Boney said. "As the tour leader, I was pretty obsessive with checking and rechecking all the pandemic obligations."
  The coronavirus pandemic was not the only looming threat to the study abroad group. Boney said that the current unrest in Eastern Europe was what worried her about the trip.
  "Honestly, I think I was more concerned with the war in Ukraine than I was with us catching COVID," Boney said.
  The ongoing attack on Ukraine by Russia has attracted global attention, and the Czech Republic is a country that has been involved in protesting Russia's actions. As a country that experienced previous control by the Soviet Union, Czech citizens have been quick to show their support for Ukraine. The students on the trip witnessed peaceful protests, where small groups of people carrying signs that supported Ukraine walked around the city.
  Senior criminal justice major Kearston Thurman said she thought the trip was safe.
  "Given that we weren't in any of the countries that bordered Ukraine, I never felt there was a threat," Thurman said. "It was obvious that everywhere we went, there was a ton of support for Ukraine, which I felt was amazing and loved to see."
  Being able to study abroad during a time when there are so many changes in the world allows students an opportunity for unique experiences. Sodemann said she thinks UCM's study abroad office is to thank for providing such experiences despite COVID-19 and war next door.
  "It was truly one of the best experiences I have had while at UCM, and I think a big part of that is because of the UCM study abroad office and the study abroad facilitators and leaders that continuously do a great job," Sodemann said. "I know my experience wouldn't have been the same without them and all of their hard work."
Boney said helping students have these experiences to see the world through a different lens makes the challenges of a study abroad trip worth it, and it's incredibly gratifying.