Beijing Winter Olympics Impacts Many Lives
 Six years of hard work, sixteen days of extreme bloom — on Feb. 20, 2022 the 24th Olympic Winter Games ended in Beijing. This global ice and snow event has made China the focus of the world's attention, and has also stimulated people's enthusiasm for ice and snow. This is the first time China has hosted the Olympic Winter Games, and it is also the third Olympic Games hosted by China.
  The modern Olympics have a boosting effect on a country's economic impact because the holding of the Olympic Games has raised international attention to a certain extent, brought hotspots, promoted the development of various industries and increased the national consumption in the field of sports and health.
  Tianyu Yao from Loughborough University was able  to have the right to visit the opening ceremony and some competitions. Yao said that the Beijing Winter Olympics were held in his hometown, and it is very incredible to have had the opportunity to watch the games in person.
  "在冬奥会之前,冰雪运动项目在中国并不特别盛行,甚至人们对一些比赛规则都不熟悉,"姚说。"通过冬奥会,我学到了更多关于冰雪运动的知识,也更加享受观看比赛。"
  Translation: "Before the Beijing Winter Olympics, ice and snow sports were not very popular in China, and many ice and snow sports did not even know the rules," Yao said. "Through the holding of the Beijing Winter Olympics, I learned more about many ice and snow sports, and I can enjoy more while watching the game."
  The Beijing Olympic Winter Games were  based on the theme of "Technology Winter Olympics, Green Winter Olympics" and paid great attention to environmentally friendly and global policies of energy conservation and emission reduction.
  "不难看出本次冬奥会开幕式非常注重绿色,并且相比于2008年奥运会减少了近90%的烟火,"姚说。"本次冬奥会主要使用原有场馆,将它们改造成符合冬奥会标准的新场地,以节约建筑材料。许多赛事专用运营车辆采用纯电动汽车,这减少了尾气排放。"
  Translation: "It is not difficult to see from the opening ceremony that this Olympic Winter Games is very green, with 90% fewer fireworks than in 2008," Yao said. "Beijing Olympic Winter Games has made extensive use of the original venues and transformed them into new venues that meet Winter Olympic standards, reducing the use of building materials. Many of the vehicles operated by the Olympic Winter Games are pure electric vehicles, which reduces exhaust emissions."
  The Science and Technology Winter Olympics also left a deep impression on Yao. He said he is most interested in high-speed cameras in various competition venues. These high-speed cameras can provide better visual effects for the live and the audience watching the broadcast.
  Yexin Cheng is a senior from Beijing Foreign Studies University. Although she did not get an invitation letter to participate in the opening ceremony and competition events, she said she was very interested in various news of the Olympic Winter Games. She said she believes that the high attention and enthusiasm of the whole people are the biggest features of this Olympic Winter Games.
"工作上,采访冬奥会工作人员,根据新闻编辑报道;生活上,冬奥会为我提供了很多乐趣,看比赛,买吉祥物,"程说。
  Translation: "At work, interviewing Olympic Winter Games staff, editing reports based on news; in life, the Olympic Winter Games provides me with a lot of fun, watching games and buying mascots," Cheng said.
  Although the Olympic Winter Games came to a successful conclusion, those who worked hard for this international event should not be forgotten. Liwen Xia is a partner of Beijing Wanen Technology Co., Ltd., which is a company that produces daily cleaning products, and its main customers are hotel groups and private enterprises. During the Beijing Olympic Winter Games, Wanen Technology Co., Ltd. indirectly supported this international event.
  "本届冬奥会比较特殊,因为有COVID-19疫情,"夏说。 "按照政策以及保障工作人员健康,我们要求所有员工接种疫苗。另外,按规定每7天进行一次核酸检测。"
  Translation: "This Olympic Winter Games has become special because of the COVID-19 pandemic," Xia said. "In accordance with the policy and to protect the health of the staff, all employees are required to be vaccinated. In addition, nucleic acid testing is required every seven days as required."
  Xia said the biggest challenge was the overlapping dates of the Spring Festival and the Winter Olympics, which put double pressure on them. Some clients need to host a large number of guests during Chinese New Year, and some clients need to host Winter Olympic staff. This has led to a surge in demand for most products. 
"但是我们成功克服了这个挑战,"夏说。
  Translate: "But we overcame this challenge," Xia said.
  The Beijing Olympic Winter Games closed under fireworks with the words "One Family," which means that at least during this time, everyone hopes that no matter who they are, no matter what country or region they are from, everyone can uphold the Olympic motto "Faster, Higher, Stronger — Together." The positive attitude brought about by the Olympic Winter Games will affect everyone.
Leave a Comment
About the Contributor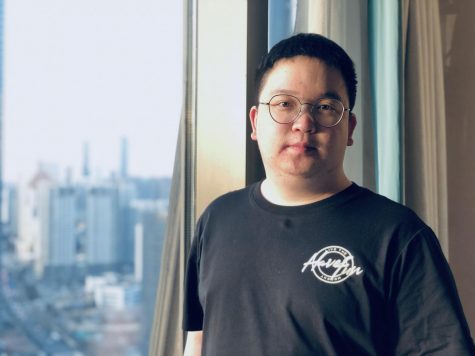 Junping Xia, Reporter
Junping Xia is a Chinese international student currently studying in Beijing, China. He started his education at the University of Central Missouri in...