Peterson Named New Volleyball Head Coach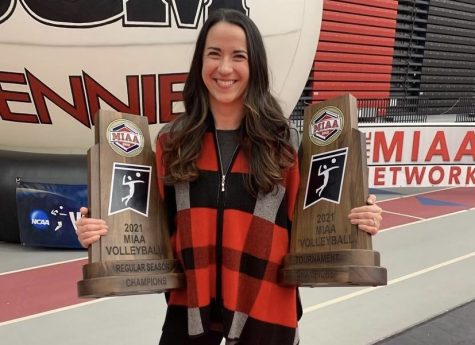 Senior associate head coach Caitlin Peterson, will be taking over as volleyball head coach after current head coach Flip Piontek retires in June.
  Peterson has been at the University of Central Missouri for 17 years as an assistant coach and student-athlete. She graduated from UCM in 2010 with an undergraduate degree in accounting. Peterson has been coaching volleyball for 12 years as an assistant and grad coach at UCM. She was an assistant coach to Peggy Martin and Flip Piontek. Martin actually inspired Peterson to coach when talking to her about her future during her junior year. Now as head coach, Peterson is excited to help other young women prepare for the future and excel as part of the volleyball team.
  "I'm excited," Peterson said.  "I'm a little nervous, but that's okay. I'm excited for all of the new challenges and to continue to be part of the program." 
  Peterson has already started her coaching job by scheduling Division II tournaments and MIAA games. She knows that next year will be challenging, as she will be losing five players, but will have two incoming freshmen. Her goal is to continue the success that the volleyball program has had for the past 50 years.
 "I'm really honored to be chosen to be a part of this program and legacy, [and I'm] looking forward to the future," Peterson said. 
  Sophomore setter Chandler Vaughan has known Peterson for several semesters. Before coming to UCM, Vaughan played in a club volleyball team. Peterson was coaching a PVA club volleyball team that was playing against Vaughan's team. Vaughan had never heard of UCM before, so she was curious, came down for a visit, and connected with Peterson. Now Peterson and Vaughan's relationship is close since Peterson was a coach who helped out with setting. 
  "She is a setter's coach, and I'm also a setter so I'm with her a lot one-on-one and I'll be one-on-one with her this spring, which will grow the connection," Vaughan said. "We do have a connection, but it's definitely going to grow over this next spring and fall and the years I will be here." 
  The volleyball team had their practices under Peterson the week of Jan. 16. The team came out prepared and ready to go. 
  "I think the team will handle it well," Vaughan said. "We all have her back through everything and we're going to have her back throughout the future."
  Sophomore outside hitter Kersti Nix is also excited to have Peterson as the new head coach. She said she sees Peterson as a mother figure because she makes sure that the team succeeds well and plays the hardest they can. Nix said Peterson deserves this because of her dedication and commitment to the volleyball players.
  "She is all about setting the bar really high on every level, like in the weight room, the competitiveness on the court, our conditioning," Nix said.  "She is putting a lot of pressure on us, but we're all ready for it."
Leave a Comment
About the Contributor
Meah Copeland, Sports Editor
Meah Copeland is a senior Digital Media Production Major. Her emphasis is in Digital Journalism and Sports Reporting and Broadcast. Meah started writing...