Landkamer Shares Bug Treats and Expertise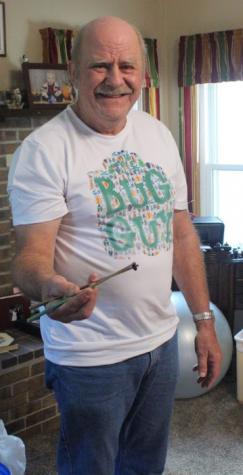 Insects are not usually something people think of as a delicious treat. Paul Landkamer, a UCM alumnus and wild edibles enthusiast, disagrees with that idea. Landkamer is an entomophagist, an expert in the world of cooking and eating insects. He serves his bug goodies at events hosted by libraries and nature reserves, sharing his unique dishes and love for the natural world. 
   Landkamer has always had a love for the outdoors, yet his passion for insects started one day while he was working with the public library.
   "A woman came in and asked a research librarian if she could help her find a source for fried grasshoppers," Landkamer said. "She didn't really know where to start with that, but she knew I was into outdoorsy stuff. I thought, 'that sounds like a neat thing to dive into.'"
   From there, Landkamer was able to find a number of online resources, communities and cookbooks. One of the first dishes he made was a hornworm, cricket and grasshopper stir fry with sweet pickled jalapenos and onions, inspired by the "Eat A Bug Cookbook" by David Gordon.
   Landkamer then went back to share a grasshopper with the librarian. 
  "She was all nervous, and she shivered a little bit when she saw it," Landkamer said. "She slowly ate it, and it was almost like her face melted. She wanted more and more, but she wasn't quite bold enough to have a hornworm. That kind of started me on it; I found that sharing it was quite fun."
   Landkamer is currently retired, but he still shares many of his snacks at events with libraries and nature reserves.
   "He's very knowledgeable, and this is an interest that he's had for years," Carol Nolte, manager of the library's Warrensburg branch, said. "He's good at what he does and making it fun for people too."
   At the last event Landkamer did with the library, volunteers tried Japanese beetles and mealworm rice krispies treats.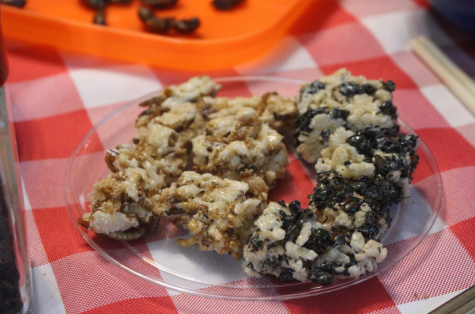 "A lot of it is mind over matter," Nolte said. "I'll be darned if they didn't taste just like rice krispies treats, and I was eating worms."
   While there are some examples of bugs that can be purchased — mealworms can be purchased as bird food — Landkamer forages most of his himself.
   "Grasshoppers are easy to collect," Landkamer said. "Especially late summer into the fall at night. When the nights start getting cool, you can go out with a flashlight, and it's almost like picking berries."
   After collecting, Landkamer will kill the bugs by putting them in the freezer, boil them and then dehydrate them. Sometimes before dehydrating the insects, he will marinate them in a sauce. Then he might roast them, bake them into cookies or just eat them directly. 
   "I think there's a little bit of 'ew, eating bugs?', but there's always somebody willing to try it," Sarah Elder, manager at the Remington Nature Center in St. Joseph, said. "I kind of drew the line at the bugs with wings."
   Landkamer has brought a variety of samples to the center's Insect-o-rama event in years before COVID-19. 
   "He's always so willing to share his knowledge on bugs and their benefits," Elder said. "They can be a source of food in nature. Now, obviously you're not going to find a ranch flavored bug in the wild, but it doesn't have to be flavored. If you have to, you can eat them."
  Besides going to events like Insect-o-rama, beginners to the world of bug eating have many more resources available than even ten or fifteen years ago.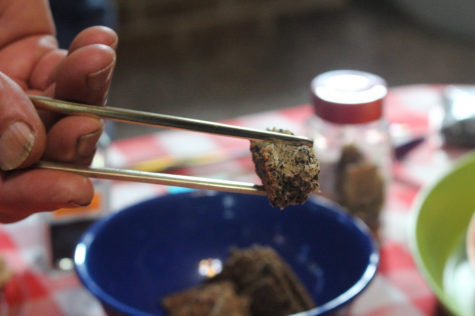 "You could pick from virtually any type of food that is considered to be absolutely normal and familiar and try a bug version of it," popular entomophagist Daniella Martin said. "I mean, if you type 'edible insect' into Google, you have a lot of shopping options."
   The biggest hurdle people face before eating bugs is their own mind. 80% of world cultures treat insects as food.  
   "I have seen hundreds of people go from 'absolutely not' to 'I think I'd like to try that again,'" Martin said. "It's definitely not a taste thing. It's in your brain, not your taste buds — that's where the block is."
  Martin commended Landkamer for sharing his treats and knowledge with others.
  "He sent me my first batch of candied Japanese beetles or stink bugs," Martin said. "I feel like he's one of the first that spread the idea of using those particular species that we in the midwest tend to find as pests. I think that Paul is to be celebrated for his continued contributions to this field."